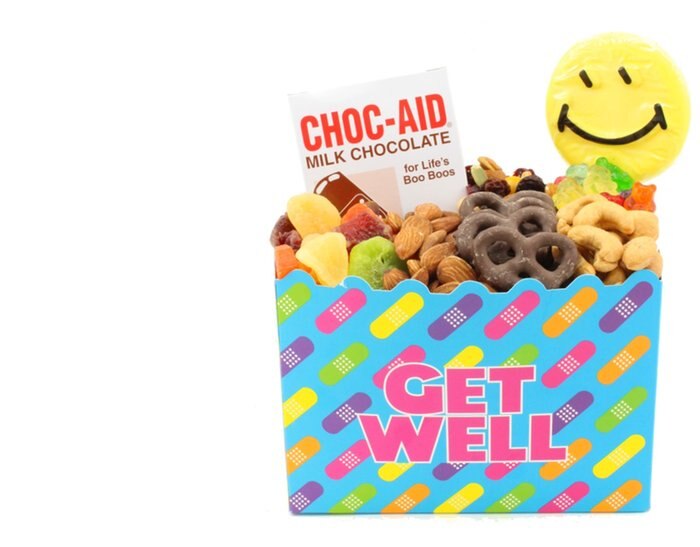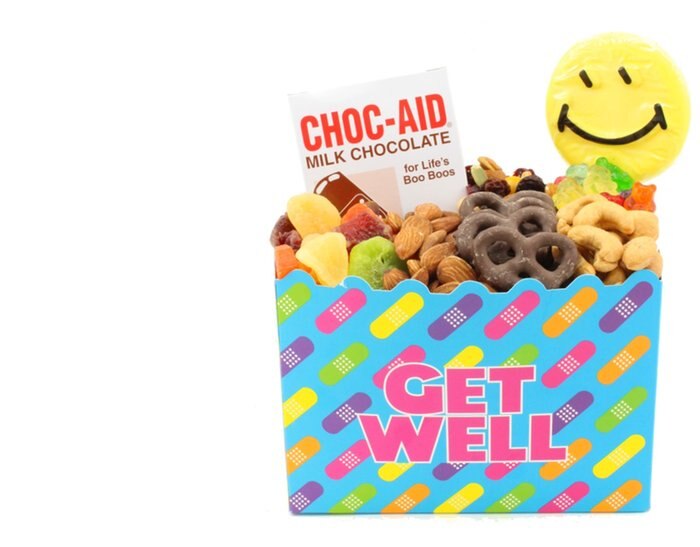 Wish someone well with a colorful basket of cheer-up treats. Over three pounds of deliciousness guaranteed to ward off the blues.
Our lovingly packed Get Well Soon Basket includes: 12 Flavor Gummy Bears, Chocolate Pretzels, Tropical Fruit Salad, Salted Cashews, Harvest Trail Mix, Roasted Almonds Unsalted, a Smile Pop and a box of Chocolate Band-Aids.
Ratings & Reviews
Gave as a gift to a friend after open heart surgery....made his day.
Cherryl
, San Lorenzo, CA
heard from the recipient how nice the package looked and the contents were inviting. thank yiu for making me look good! It was my boss' wife.
Elizabeth
, Budd Lake, NJ
My client said that the get well basket made her laugh! Mission accomplished!
Jill
, Potomac, MD
Our dear friend, who is recovering from a lawn mower accident, absolutely loved your Get Well Basket. His wife took a picture of him in his chair with the chocolate band aid wrapper on his head and the basket in his lap. Thank you for providing us with an exceptional expression of our wishes. Thanks also to your customer service rep., Alyshia?, who was extremely helpful with my order. We will be returning soon.
Judith
, Shallotte, NC