Candy Favors
Create your own personalized candy favors or start with one of our designs below. You can choose from a huge selection of candy and containers designed exclusively for our customers. We'll even assemble the candy favors for you! (Minimum orders of 24 items.)
We'll ship your goodies the same day if you place your order before 4 PM EST.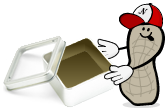 Mix and match candy and containers to coordinate favors to your celebration color and theme. Design your custom candy favors in three easy steps!
Ready-to-Order Favors
We've picked and assembled a few of our favorite favors to make it easy for you to get started. In two extra steps, you can easily customize the candy color and container.