Our Gift Options
Browse our selection of customizable gifts, ready to be tailored by your recipient(s).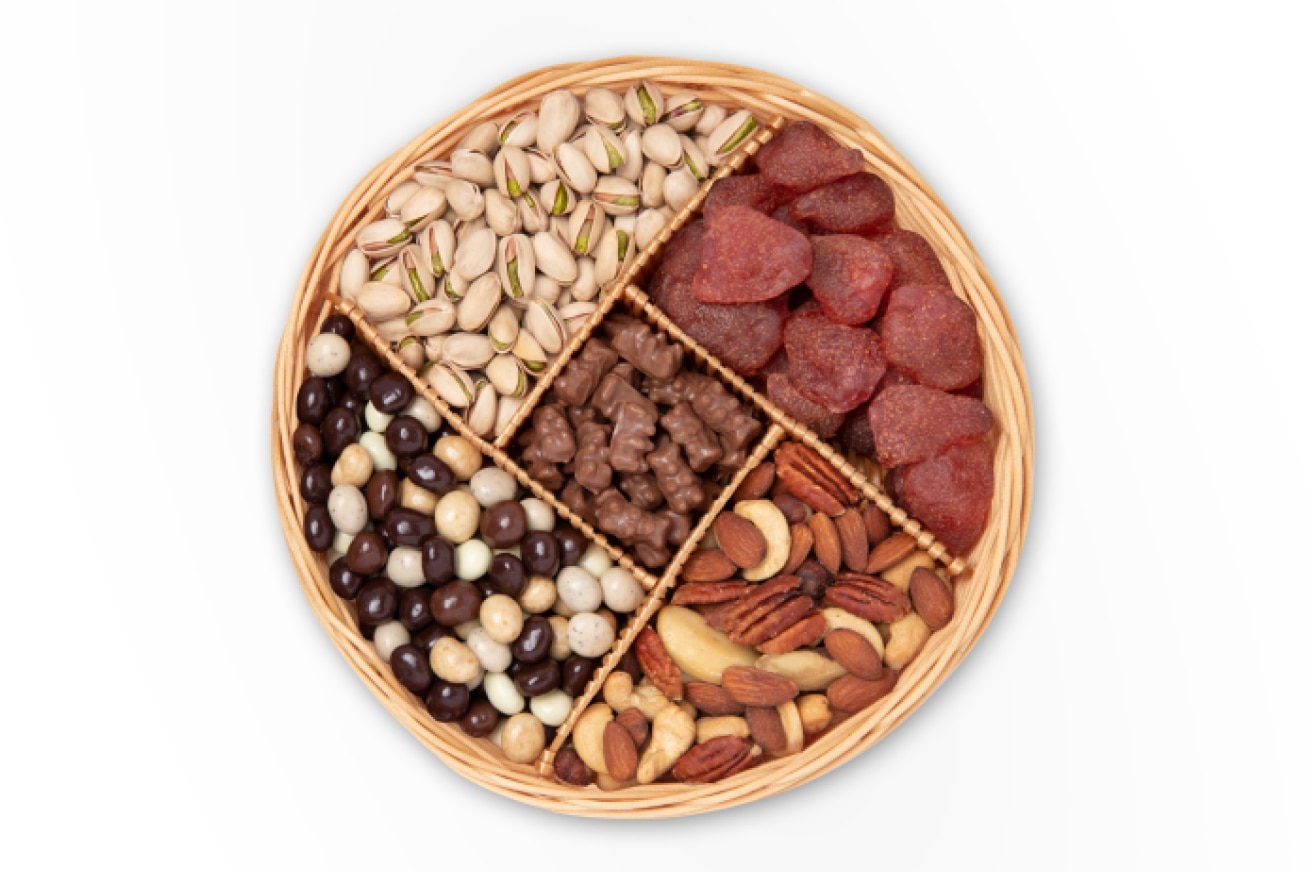 Custom Gift Tray
Your giftee(s) can choose their favorites from 130+ of our core and gourmet snack offerings.
Premium - $69.99+
130+ Choices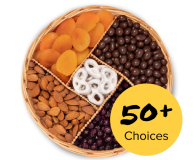 Classic - $59.99+
50+ Choices
Wondering what they can choose?
See Ingredients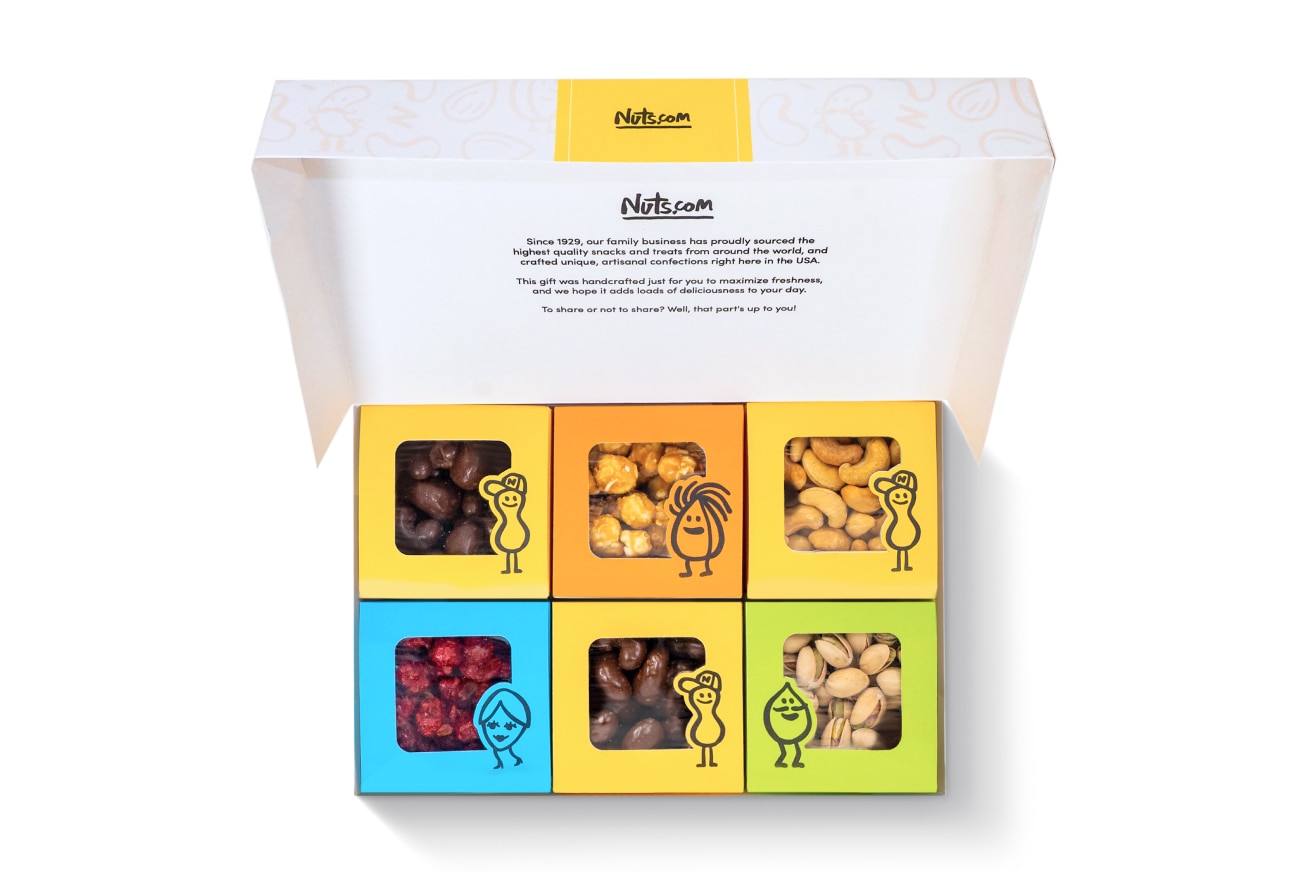 Custom Gift Box
Or, let them choose six delicious treats from a menu of 50 gourmet flavors.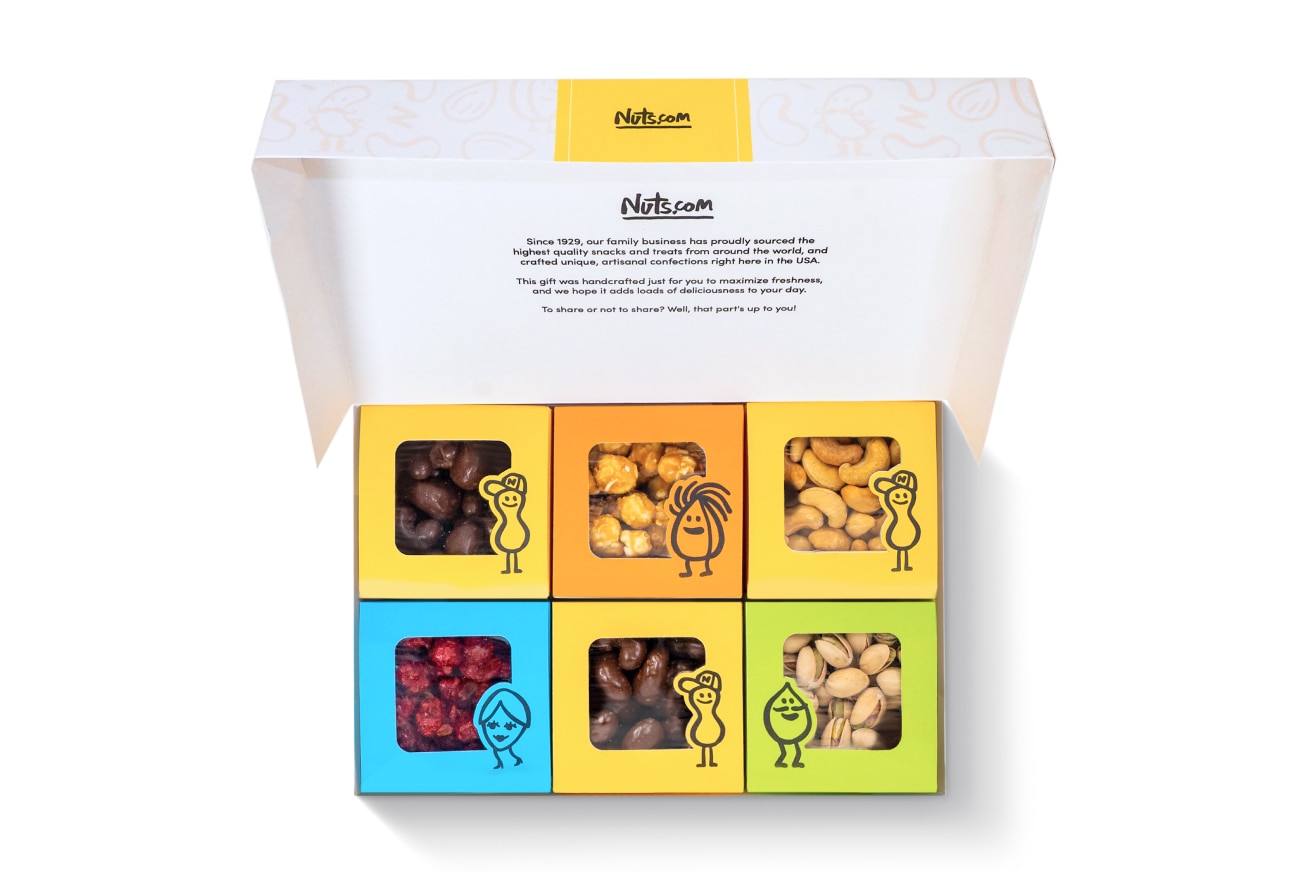 Medium - $42.99
50 Choices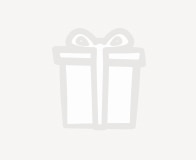 Wondering what they can choose?
See Ingredients
*Can only ship throughout the United States (including Hawaii and Alaska) and Puerto Rico.
Give the gift of choice, instantly — no shipping address necessary.
Select the size and type you'd like, add a personalized message(s) and hit send. Your recipient(s) provides the shipping info once they accept your gift.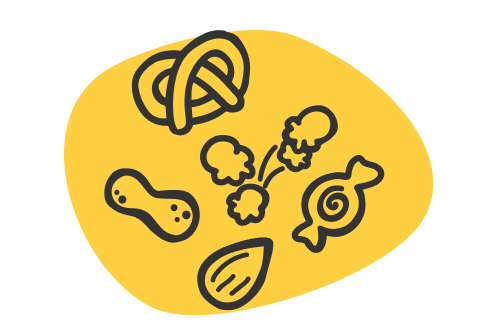 2. They Choose What's Inside
Your recipient(s) picks their favorite goodies and adds their mailing address. Voila! They get exactly what they want.
3. We Deliver Deliciousness—Fast
Your recipient(s) will receive real-time delivery info, which will refresh as your gift makes its way to them.
Stress-free gifting for every occasion, all in one place.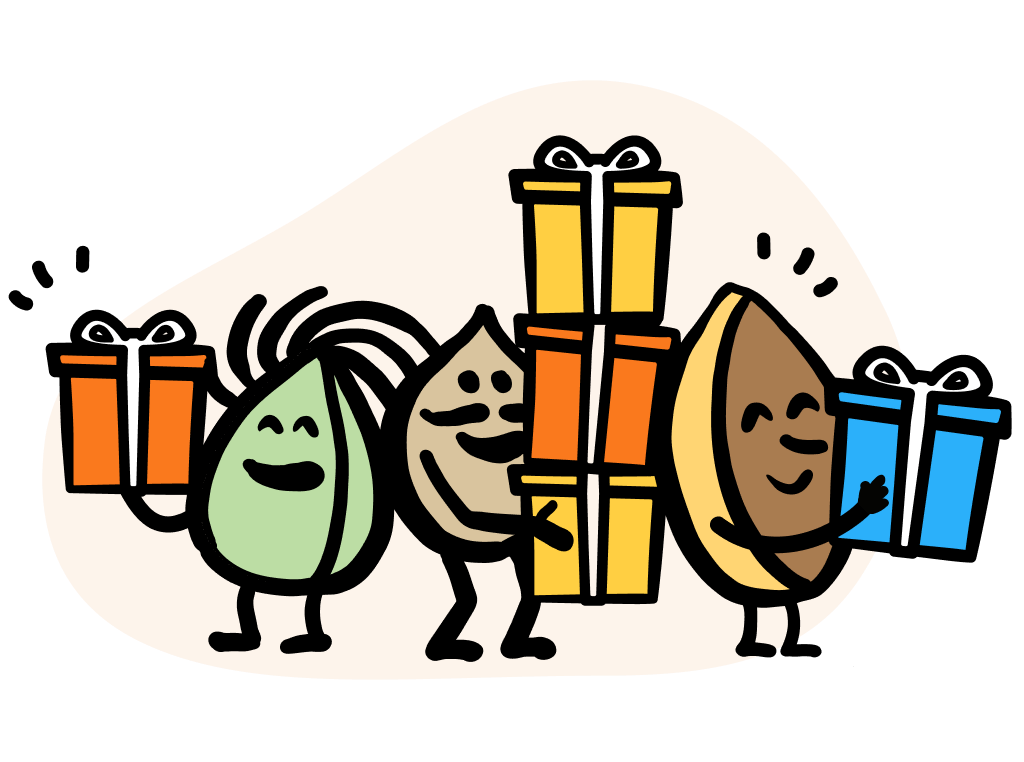 Group Gifting Made Uncomplicated
With our easy-to-use platform, we've simplified the art of corporate, client and community gifting — at any scale. Send five or five hundred presents, without headaches or hassles.
Unmatched Quality and Variety
Our menu presents loads of unique and high-quality treats for every taste and dietary preference.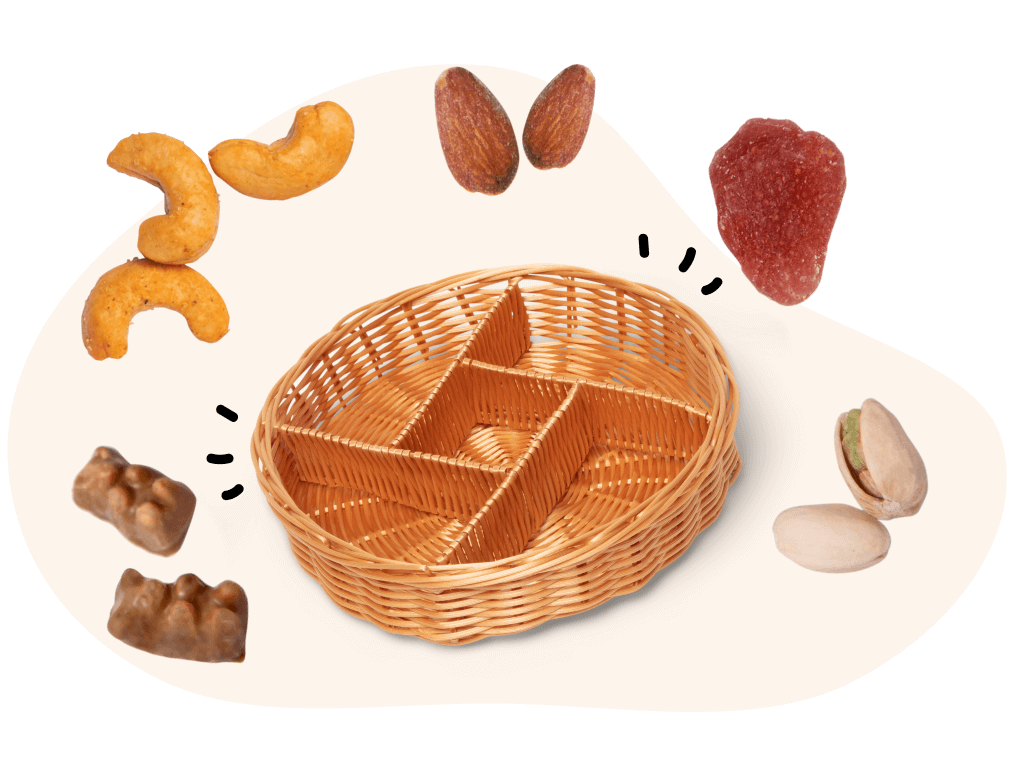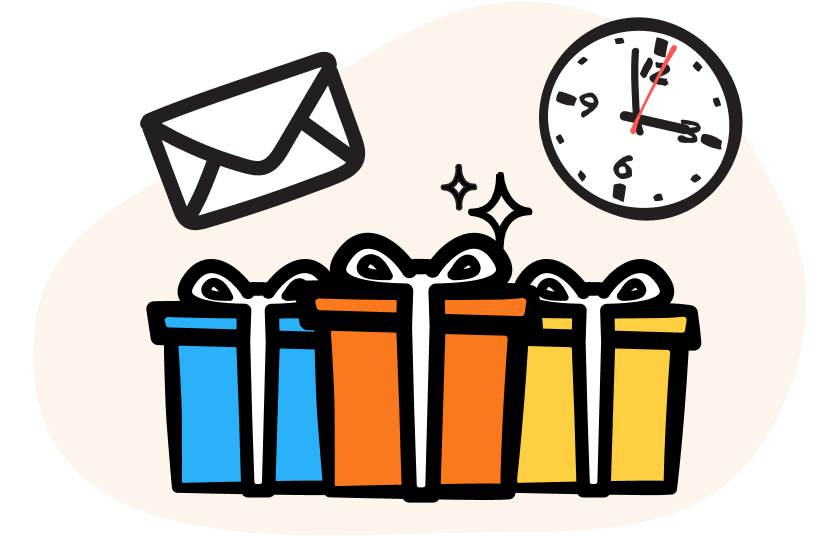 Personal and Perfect Every Time
We make it easy to deliver a thoughtful, made-to-order digital unwrapping experience, whether you're gifting ahead or ordering last minute. You can even follow along as they open and receive their goodies.
Frequently Asked Questions
Are tax & shipping included?
Yes, the price of a GiftDrop includes taxes and shipping within the contiguous United States.
Can I schedule a GiftDrop to arrive on a specific day?
Yes, GiftDrop e-mails can be scheduled to arrive immediately or at a specific time; the GiftDrop tray will arrive after your recipient has made their selections.
How does the recipient get the GiftDrop?
They will receive an email with your gift message, a specially designed e-card, and a link to choose their favorite snacks. From there, they will receive your gift via Ground Shipping once they redeem their gift and enter their shipping address. We do not reveal the value of your gift to the recipient.
How long will it take for them to receive the gift?
Your GiftDrop will arrive by email on the day you schedule it, for a perfectly timed surprise! Their gift will arrive via ground shipping in 2-5 business days after they select their treats and enter their shipping address.
Can I send a GiftDrop outside of the United States?
Unfortunately, we cannot ship GiftDrops internationally (yet!). At this time, we only ship throughout the United States (including Hawaii and Alaska) and Puerto Rico.
How will I know that my recipient got my GiftDrop?
You will be notified when a GiftDrop is redeemed via the e-mail you provided at check out.
What snacks can my recipient select from when they redeem their gift?
See snack offerings here ! Offerings include the best of our premium nuts, dried fruits, chocolates, sweets, and snacks. Classic Gift Tray recipients can choose from 50 of our core snack offerings, and Premium Gift Tray recipients can choose from 130+ of our core and gourmet snack offerings.
I sent a GiftDrop, but the recipient didn't receive the email, what do I do?
If you select "immediately," your recipient may receive an email within an hour. If they haven't received it after 1 hour, please ensure they have checked their spam folder. Otherwise, contact care@nuts.com with your order number, and we can resend the e-mail or update the recipient's e-mail address for you.
I just received a GiftDrop, do I have to pay for shipping to get my snacks?
No! The gift giver covers the cost of shipping.
How will I know that the GiftDrop I just redeemed has shipped?
You will receive a shipment confirmation and tracking e-mail to the e-mail address you provided when you redeemed your gift.
Can I add any additional items to the shipment of the GiftDrop I'm redeeming?
Currently, GiftDrop gifts ship on their own, but you can purchase any additional items separately at Nuts.com!
Can I cancel or return a GiftDrop?
Once placed, GiftDrop orders cannot be canceled or returned. If the GiftDrop was sent to the wrong e-mail address, please contact care@nuts.com and we'd be happy to update it for you.
Can you combine a GiftDrop with other products on Nuts.com?
Yes, your GiftDrop will be added to your Nuts.com cart and can be combined with any of our delicious products! Note that GiftDrop purchases do not count towards the $59 free shipping threshold for Nuts.com products.
Can I use a Nuts.com promotion on my GiftDrop purchase?
Only GiftDrop-specific promotions apply to GiftDrop purchases. Nuts.com promotions and discounts do not apply to GiftDrop purchases.
Interested? Great, let the gift-giving magic begin.
Corporate gifting? Need recommendations? Our Gifting Specialists are here to help!