Corporate Gifting Done Deliciously
Delight clients and employees with fresh gourmet gifts they'll remember – no matter the occasion.
Our made-to-order gifts feature the finest snacks from around the world, plus award-winning confections made in the U.S.
Ship to multiple addresses nationwide – 1-3 day shipping guaranteed.
Whether you're treating a special client or a global team, our gifting specialists will help you at every step.
Choose from hundreds of premium snacks to create thoughtful and delicious trays, baskets and more.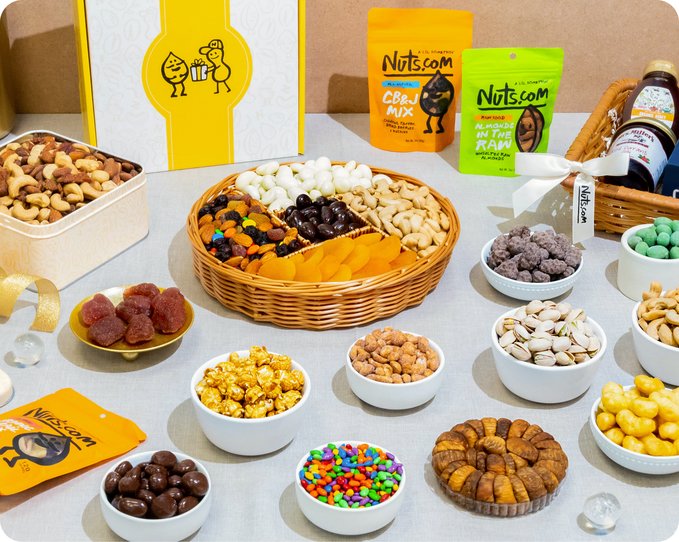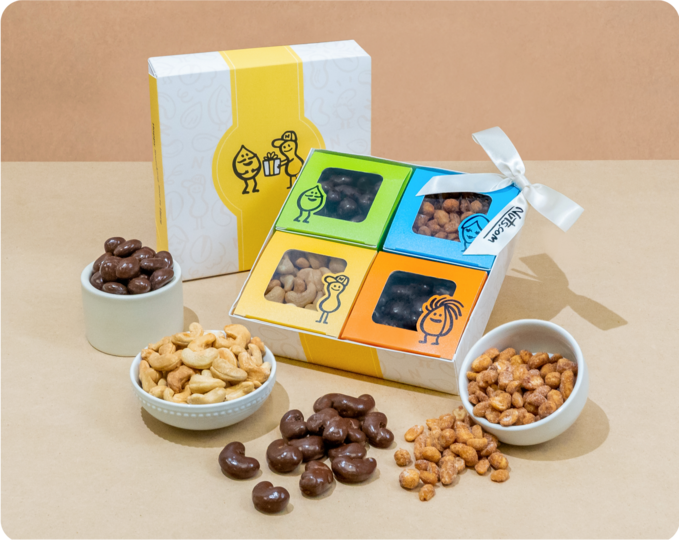 Let Us Create The Perfect Gifts For You
Complete the contact form or email us at gifting@nuts.com to get started. Or, give us a ring at 800-558-6887. Our gifting experts will reach out to you shortly.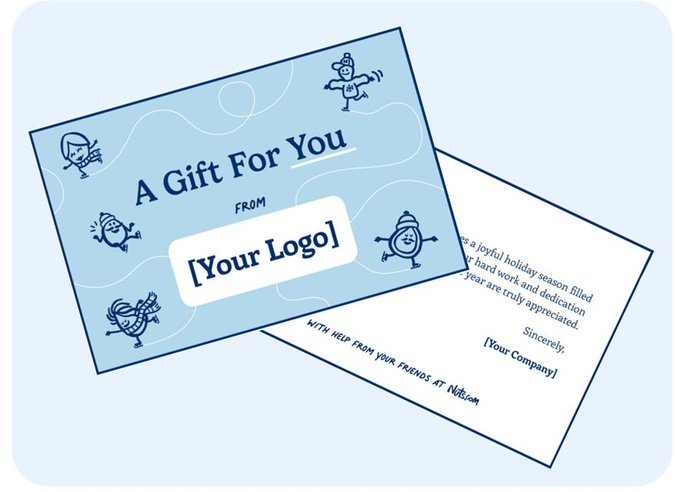 Looking to show your care with personalized greeting cards featuring your logo and personal message? Simply send us your logo and desired message. Complete the form below to get started.
Minimum quantity of 25.
Why Gift Drop?
With our easy-to-use platform, we've simplified the art of corporate, client and community gifting — at any scale. Send five or five hundred presents, without headaches or hassles.
No more guesswork! We give your recipients the freedom to easily select their favorite treats, bringing a custom-tailored unwrapping experience they'll never forget.
Unmatched Quality and Variety
Since no two snackers are alike, our menu presents loads of unique and high-quality treats for every taste, dietary preference and craving.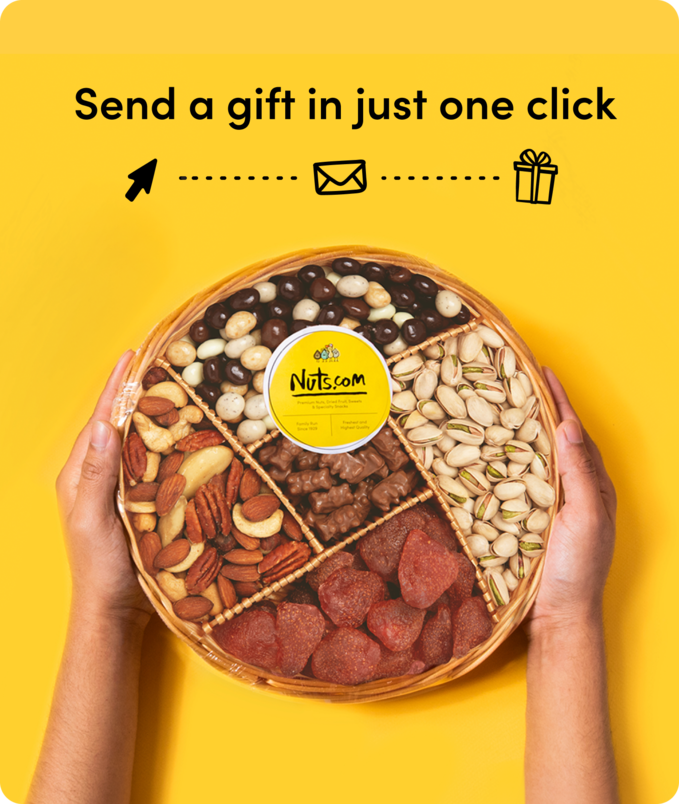 Why Our Customers Love Us
Every year we order the Large Mixed Nut Sampler as an appreciation gift for our employees and to kick off the holiday season! We all look forward to that delicious sampler! It has become a Thanksgiving tradition at Consolidated Aircraft. Thank you Nuts.com.
Bridget - Accounts Payable
Consolidated Aircraft Supply Co.
Nuts.com gift baskets were a HUGE success. My email was flooded with thank you' s and sentiments of appreciation. Just to know that we were thinking of them spoke volumes but also the quality of the gifts took the gesture over the top.
Toni Lindsey - Director of Human Resources
Electronic Merchant Systems
Frequently Asked Questions
Yes! You can add a unique message on the packing slip of every gift, free of charge
Greeting cards are available for an additional $3
For orders over $1000, you can also customize a greeting card with your logo for an $3 per card (note: the message inside each custom greeting card will be the same)
Can I substitute products within baskets?
Our gifts have been created with expertise to ensure the recipient has the ultimate Nuts.com experience - no modifications can be made to most of our gifts, but we promise they will be a hit! Custom trays are a great option if you'd like to select your ingredients
Can I customize products?
We cannot customize products at this time.
When do I need to place my order by?
To be sure your order makes it in time for Christmas, we recommend placing before Dec 15th
How do you ship and how much is shipping?
Nuts.com proudly offers free shipping in the contiguous US on all shipments over $59 (note: each unique shipping address is a separate shipment). Free shipping will be applied automatically to all qualifying orders. No coupons or promotion codes required!
Can I get more information about Customized Greeting Cards?
Absolutely! Our Customized Greeting Cards are available with a minimum order quantity of 25 cards, and each card is printed on a 4 x 6 flat greeting card. To personalize your cards, we require a .png file of your company's logo on a transparent background along with a personal message. The Customized Greeting Cards will have identical content for all cards within a single order, and they are priced at $4 per card.
Complete the contact form or email us at gifting@nuts.com. Or, give us a ring at 800-558-6887. Our gifting experts will reach out to you shortly.