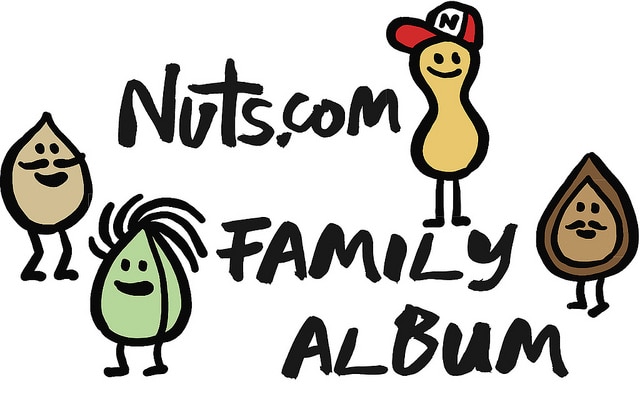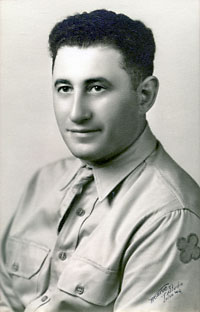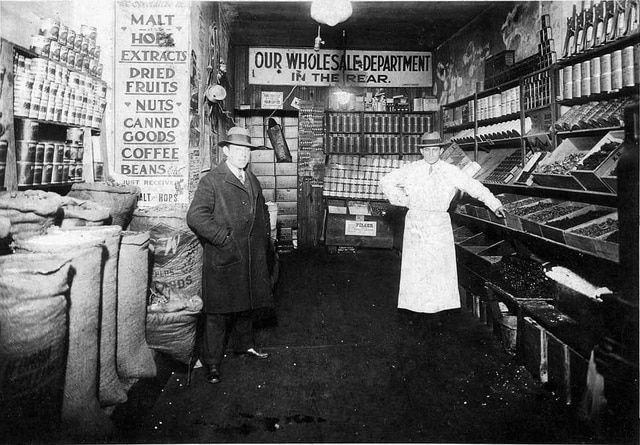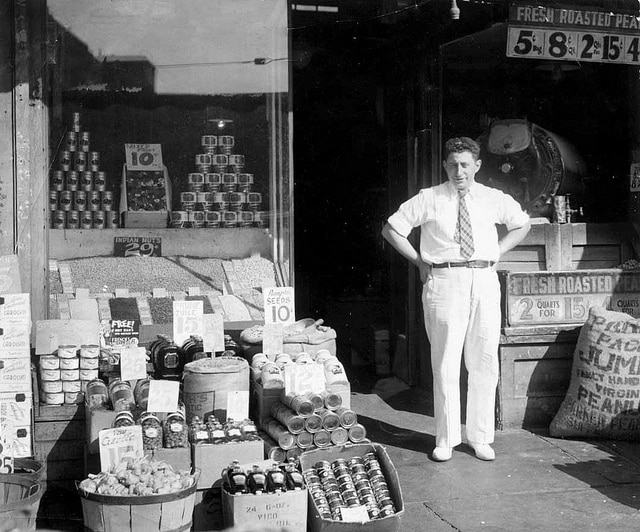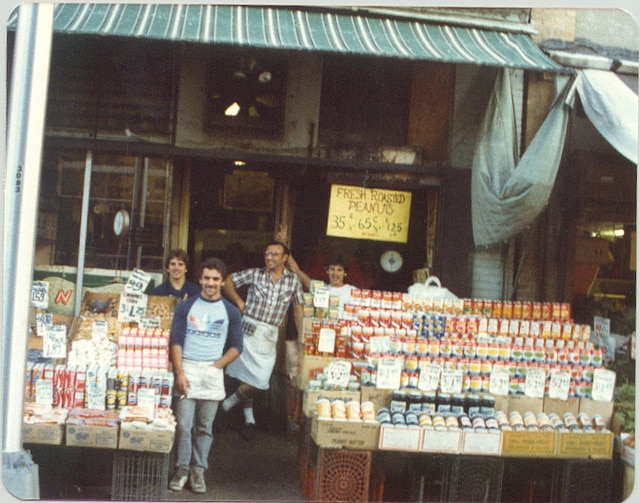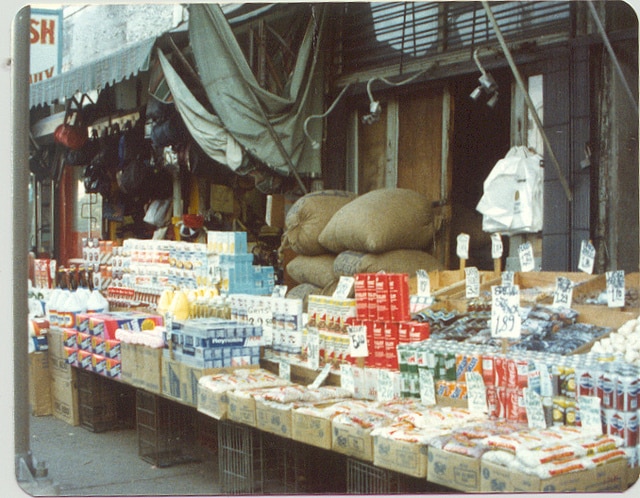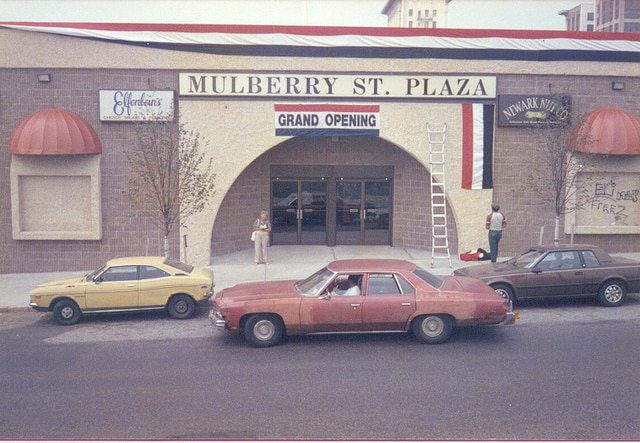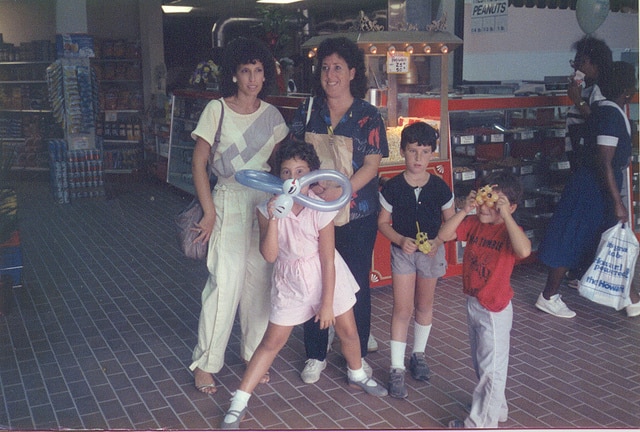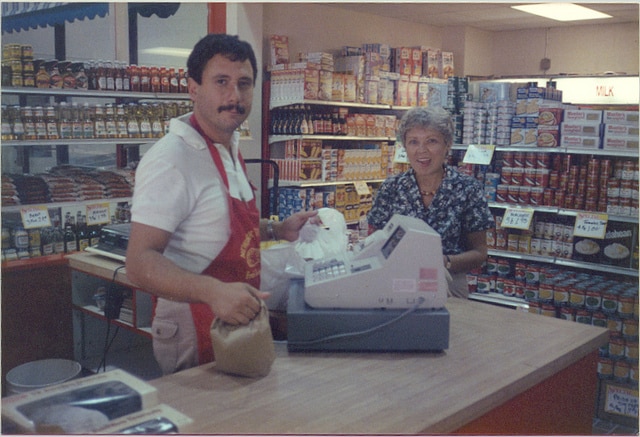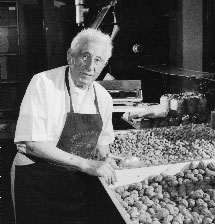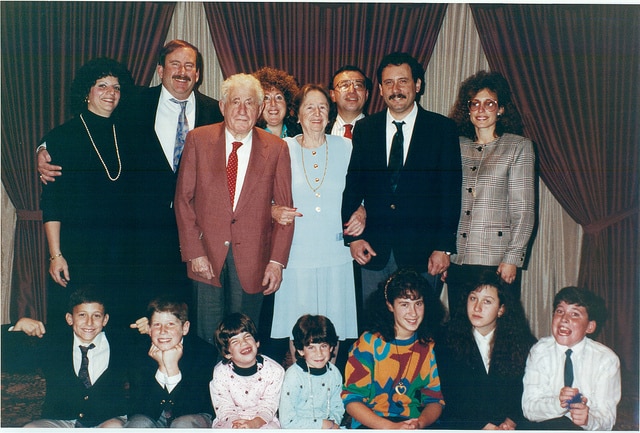 About Us
In 1929, on the brink of the Depression, our father and grandfather "Poppy" Sol took a bold step. 22 years old, he had already worked fulltime for 10 years to support his family. Yet he was ambitious, and wanted to live the American Dream and make the lives of everyone around him better. So, donning his best of suits and an assured smile on his face, Sol walked away from the bank with a loan to start his own business, the Newark Nut Company. The rest is history. Let us tell you all about it:
Our Story
As mentioned above, the vision and determination of our Poppy Sol is what launched the Newark Nut Company.
He began selling premium bulk nuts and dried fruit at the popular Mulberry Street open-air market. Sol quickly developed a reputation for providing the very finest and freshest nuts available. Sol believed in choosing only the highest quality super colossal nuts from the world's best growers. He would then roast the nuts to perfection for a fresh, delicious flavor.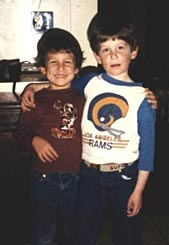 Cousins Jeff (left) and David in about 1984.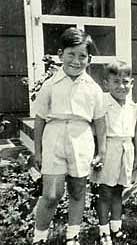 Uncle Sandy on the left and Kenny on the right in 1954.
Now, 94 years later, my cousin David and I represent the third generation of our family business. Although much has changed, our basic philosophy has not, and we continue the family tradition of providing the same superb quality and service as in the past. Our customers, some in their 80's and 90's, still rave about the splendid quality and luscious flavor of the products that have made our company famous throughout the years. A visit to the shop today will make your mouth water as the aroma of the freshly roasted peanuts and corn kernels popping tempt your taste buds. We love when customers come to our new location in Cranford to pick up orders and say hello. However, please keep in mind it is a warehouse location and you are unable to walk around and shop.
In 1999, we launched NutsOnline to bring our savory selection of more than 2,000 items right to your door. By 2011, NutsOnline became pretty well known across North America for great quality and service across a growing product offering. Our slogan, "We're more than just nuts," continued to ring true.
That being said, I can't tell you the number of times I would make new friends and, before saying goodbye, they would say, "I'm excited to check you guys out. Nuts.com, right?" Even Rachael Ray made this mistake on her show! So, in January 2012, we decided to officially change our nuts to Nuts.com. Despite the name change, we are still the same - the same family, the same values, the same quality, and the same level of care. We buy directly from growers, so whether you want one pound or 1,000 pounds, we will gladly accommodate any of your needs, including wholesale. You can order online through our secure server, over the phone, or via fax or e-mail.
We roast our nuts and pop our corn the same day we ship so they reach you deliciously fresh as if you bought them from our shop. We do it the "Old Fashioned Way." One taste and you will know the difference. My grandfather began building our reputation back in 1929 and, 94 years later, we continue to make sure that every product we sell is second to none. That's a promise. 100% satisfaction guaranteed!
If you have any questions, comments, or suggestions, feel free to contact us!
Thanks and enjoy!
- Jeffrey (third generation) along with my dad, Kenny, my uncle, Sandy, my cousin, David, and the rest of the Nuts.com Family!!
Our Environment
Our family has been in this business for 3 generations and we would love for another 3 generations to continue in this business. We want the world to be a great place for future Nuts.com generations, but fear that our neglect of the environment might make that harder and harder to fulfill.
We're hardly perfect when it comes to our environment, but we will make it a priority to become better informed and take necessary steps to reduce the impact Nuts.com has on the environment.
Currently we use 100% post-consumer recycled cardboard boxes and starch biodegradable packing peanuts. We also recycle all of our cardboard boxes. As for lighting, we replaced HID (metal halide) lights with energy efficient fluorescent light fixtures. These new lights consume almost 60% less energy. We also attached motion sensors so that when we aren't working in an area of our warehouse the lights go out and save even more. Furthermore, we sell over 250 organic products.
It's a start. But we have a long way to go.
Our Community
As a small, third generation family business, I can speak sincerely when I express our commitment to the communities we live and work in.
Setting political and theological ideologies aside, the moral fabric of our society continues to change. Each day our kids are faced with bigger challenges and distractions. Over time I will highlight more of the ways our Nutty Nuts.com Family gets involved in the community, but I wanted to focus on a couple of great organizations out there that invest in and make a tremendous impact upon our kids.
The first is the Big Brother Big Sister program. I was a Big Brother to a wonderful 9 year old boy. This is an enriching and rewarding program for not only the "little," but as much so for the "big."
The second is Junior Achievement. I went into both a 2nd grade and 8th grade classroom and used prescribed lesson plans to teach children about business. The kids were adorable, were so receptive and appreciative, and it was a lot of fun for everyone! Here's a picture below of my 2nd grade class.
The third is NY Cares. This is a great one-off experience to perform a wide range of volunteer opportunities. My favorite experience was going wall climbing with a group of kids from the Chelsea Recreation Center. It was a ton of fun and the kids had a blast!
I also love to teach kids about entrepreneurship! This is me with aspiring entrepreneurs at UAM High School's Career Day.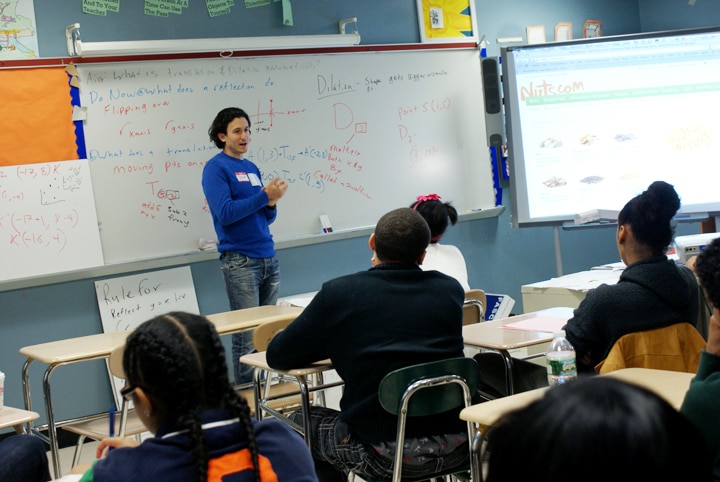 I also read with children in a homeless shelter through the Makor Book Club.
Our Mission Statement
Establish Nuts.com as the premier purveyor of the finest nuts and dried fruit in the world while maintaining our uncompromising principles as we grow. The following six guiding principles will help us measure the appropriateness of our decisions:
Provide a great work environment and treat each other with respect and dignity.
Embrace diversity as an essential component in the way we do business.
Apply the highest standards of excellence to the purchasing, roasting, and fresh delivery of our nuts.
Develop enthusiastically satisfied customers all of the time.
Contribute positively to our communities and our environment.
Recognize that profitability is essential to our future success.
Your Satisfaction. Guaranteed. Unconditionally.
At Nuts.com we guarantee absolute satisfaction. If you experience any problem with any of our products, customer service, shipping, or even if you just plain don't like what you bought, please let us know. We'll do whatever it takes to make it right for you.
To be honest, this is a matter of pride for my family and me. My Poppy Sol started this business in 1929. It brings tears to my eyes as children and grandchildren of Poppy's old-time customers still visit us today and share tales of their trips to our store and of my grandfather.
We believe in doing things the old-fashioned way and having customers for life. This is what we live and breathe.
My cousin David, my uncle Sandy, my dad Kenny, and I have been at this for nearly 150 years combined. We promise to bring a smile to your face.

Jeffrey and Family
Our Nutty Family
As the second and third generation of this business, we live and breathe what we do here at Nuts.com. This business has survived the Great Depression, Poppy Sol going off to fight in World War II, our warehouse being firebombed in the Newark riots in 1967, and relocations by the city of Newark in both 1984 and 2005. Working side-by-side with family isn't always the easiest of things, but at the end of the day we are grateful to be together.
Click a nut cartoon for each of our stories.
Hi! I'm Jeff. Well, everyone here calls me Jeffrey, so you can too. :-) Although I consider Nuts.com my baby, the real credit goes to my grandfather over 80 years ago and then to my dad and uncle of course. Keeping a business in the family, let alone working with family, for over 80 years is no small accomplishment, and I am proud and grateful of the foundation they have laid.
This business certainly runs thick in my veins. I cherish the memories of riding into work on my Poppy Sol's lap and going to work with all the grownups. My grandfather was a stoic man, and a quiet man, but when he spoke I listened, and he taught me early on the value of hard work and of family. Similar to many others of his generation, he was a very strict father, but an amazingly loving grandfather. He certainly softened over the years, for no matter how busy we were, he would always leave work and take me to get breakfast. My poppy always made me feel like a king (not to mention the whopping $5 a day he would pay me). I worshiped him and watched in wonder as he continued to come into work every day until 2 weeks before he passed away at the age of 88.
Growing up in an environment like this hardwired me for business. At the age of 7 I was already ringing up the cash register, keeping an eye out for suspicious customers, and monitoring how the employees were working (which I would then report back to my father- hehe). By 9 I was reading the stock tables to my grandfather, whose eyesight was fading. So, it was only natural for me to pursue my studies in business. In my freshman year at college (1999) I launched the first version of Nuts.com (NutsOnline). Upon graduating I went to work on Wall Street, but after 6 months I was left hungry to do something a lot more fulfilling with my life and decided to join the family business full time. I couldn't have been happier with this decision. I wake up in the morning excited to go to work. Whereas Sunday evenings were depressing for me as a kid because I had to go to school the next day, now Sunday nights are no different than any other night. Each day brings new and stimulating challenges as we strive to continually improve, satisfy more and more customers, and create a wonderful work environment for our employees. My friends might wear fancy suits and have fancy titles, but at the end of the day I know that I am carrying on a tradition of bringing smiles to our customers' faces. This is a wonderful feeling and means the world to me.
If you have anything you want to tell me, whether it be feedback, ideas, or just anything, please do not hesitate to write me, as I will personally get back to you immediately.
Hi! I'm Kenny, Ken, dad, or even Kendoll (that's a new one my daughter bestowed upon me). I started working at the store when I was 4 years old. At that age my dad didn't want my brother Sandy (who is 2 years older than me) and me going into work together because he didn't want the 2 of us playing around too much and misbehaving, but I would have no part of Sandy going without me. I would beat them into the truck in the morning and hide in a big toilet paper box, only to pop out of my hiding spot once we pulled up to the store. Back then I would sell 1/4 pound bags of peanuts for a dime. And I of course relished having lunch at the store. We would have to eat around 11 AM before the lunch time rush came. The big treat was a corned beef sandwich on rye and a cherry soda.
Working in a long established family business wasn't always the easiest feat. My father was really old school and liked to keep things as they were. He was of the mindset that if it works, don't change it. Take for example the concepts of displays. Back then we didn't have displays for our bulk nuts and dried fruit. Customers had to know to ask for certain products. When I presented the idea of getting new counters to actually display our products, I was immediately knocked down. After repeatedly pleading my case to no avail, I finally broke down and cried to my mom. She would then say, "Now listen Sol, he has good ideas. Don't be so stubborn and try what Kenneth suggests." Eventually he listened to my mom.
The business was everything to my father, and he trained us well. We were always so busy and could never get enough help, so I knew what I had to do. As much as I loved playing sports, I just had to quit my high school football and baseball teams to work at the store. I just couldn't stand to see my mom working so hard. As I was getting my degree in Civil and Environmental Engineering at Newark College of Engineering full time, I was working 40 hours a week at the store and selling many of my professors nuts and dried fruits. Upon graduation, my dad offered me a position that I could not refuse and have worked here since. The biggest joy in the business was when my son Jeffrey decided to take a chance and work for us when he quit his investment banking job after graduating from the Wharton School of Business at the University of Pennsylvania. Now I am working for my son at Newark Nut / Nuts.com and it is marvelous to witness the transformation of this business that my dad started when he was a few years younger than Jeffrey is now.
Hi! I'm Sandy. Uncle Sandy too. From around the time I could walk, I remember coming to work with my Dad and sitting on a wooden milk crate in the back of his 3 speed International truck. The ride to work would be like a taxi ride, and I hated it, as we had to pick up all of the employees along the way. As I got older I would leave school and go down to the store and work until we closed, and of course work every weekend. On Fridays we would work until 9 or 9:30 PM and be back to work at 5:30 AM the next morning. My only reprieve from work would be during high school football season when I had practices and games. When I graduated from high school my father had very little help at the store, so I ended up working full time and going to college at night.
Our original store on Mulberry Street was housed in a building from the mid 1800s and did not have any heat. During the winter, heat would come from the peanut roaster, and we couldn't wait for the hot peanuts to come out to warm up. Back then the store spread into the outdoor market and we would practically freeze during the winter. The only other heat in the store would come from when my dad would roast up sweet potatoes on a small gas stove for all of the employees to eat. Boy did we love that!
My Dad was well known throughout Newark as the unofficial Mayor of Mulberry Street. On any given busy day he would hold court with local lawyers, politicians, and doctors. His customers would sit down, visit the store for hours, and customers became friends. It brings tears to my eyes as his customers' children continue to visit us, as I remember their parents as a small boy.
Through the countless hours of working with my dad and listening to his conversations, the most important thing I learned was that you can not try and fool the customers. Customers always want and are entitled to the freshest, best tasting, and highest quality products available. This was his secret to keeping customers coming back generation after generation. Remember, he was 22 when he started and worked until he was 88.
As I grew up in the business, so did my role. I soon took over the buying from my dad. Just as my father did, I sought only the freshest, largest, and highest quality nuts and dried fruits. I started visiting our growers across the country in places such as California, Georgia, and Virginia. Today, I am in constant search of new and unique products. Some of our hallmark products that I am quite proud of are our whole dried cranberries, giant filberts in the shell, and super jumbo peanuts in the shell.
I am also proud to see my son and nephew as the 3rd generation of our family business. I know my dad would be very happy and proud to see how much we have expanded and grown through the years.
Hi! I'm David, aka Butt Davis, World's Greatest Cousin, Happy Boy, Bumper Beavis, Bumpercrop, and the list goes on (don't ask!). I remember how excited I would get as a little boy when my Dad would wake me up to come to work on Saturday mornings. At 5:45 AM I would spring out of bed and quickly get dressed in my little work boots and run down the stairs to leave. We would go pick up my Uncle Kenneth and cousin Jeffrey and pack into our truck with Jeffrey and me sitting on old milk crates. Poppy Sol would get excited to see us at work and would immediately reach into his pocket and give me five dollars. That was my hard earned pay for the day (in addition to handfuls of gummy bears and hot peanuts I would eat throughout the day). The inevitable question would always follow "Are you going to save that money or spend it on candy?" I would always tell Poppy I would save it. When breakfast time would arrive Poppy Sol would always take Jeffrey and me around the corner to the local diner Parker's for breakfast.
When it came time to work, I would always do my best to help try and straighten up the shelves of groceries with my Uncle Kenneth and fill in our display cases of nuts with my Dad. Although my head barely cleared the counter tops I loved waiting on customers and weighing up the nuts and dried fruit for them.
My favorite time of day would always be when we would roast peanuts. You could smell the fresh hot peanuts for blocks. My Dad and Uncle would yell at the top of their lungs "Hot Peanuuuuuuuuts" for everyone in Newark to hear. I would then try and hold the empty 50 pound sack with my Dad or Uncle and catch the hot peanuts as they came out of the roaster. Smoke and peanut ashes would get all in my hair and clothes. I never did mind smelling like peanuts though. It was the best smell in the world. Once the hot peanuts came out of the roaster I would race Poppy Sol to see who could weigh up the pound bags quicker.
As I got older I was allowed to do more unsupervised work in our warehouse with JP and go on deliveries with Louis. I would even be the one yelling "Hot Peanuts" and "Get Your Georgia Pecans Here." All through high school and college I would come in during winter break to help with the holiday rush. During my sophomore year of high school Poppy Sol passed away. I remember him coming into work every day right up until he went into the hospital. Even today, customers still ask about Poppy Sol. It makes me proud to know how much people cared for him.
When I graduated college I began working in the banking industry for a major firm. Less than a year working there, Jeffrey joined the business and I knew I wanted to be back with the family business full time and carry on Poppy Sol's legacy. He would be very proud to see how much we have grown through the years. Today, along with my cousin Jeffrey and the rest of our nutty family we strive to bring that same smile to your face that Poppy Sol did since 1929.