Wedding Almonds
Wedding Almonds Traditions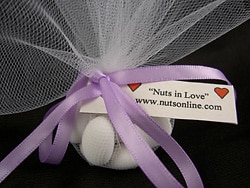 Wondering about Jordan Almonds, the ever popular wedding treat? These fancy, sugarcoated candies are rich in flavor and in cultural meaning, particularly at weddings. Whether for decorative items, party favors, or a candy buffet, here's a taste of these confections' yummy symbolism.
Did you know that giving each guest Jordan Almonds as wedding favors comes from both Italian and Middle Eastern wedding traditions? Some experts date the candy custom back to the Victorian Era.

Traditionally, wedding guests are each given five Jordan Almonds, signifying the following sentiments:

Health, Wealth, Happiness, Fertility & Long Life

Many brides and grooms word this traditional meaning in a poem to their guests on the favor label.

Check out these varieties of Wedding Almonds at great prices, always in stock, with same day shipping:
Jordan Almonds (White)

Jordan Almonds (Assorted)
Also try Jordan Almonds in other colors!
The Wedding Story of Jordan Almonds From Around the World
GENERAL SIGNIFICANCE Fresh almonds have a bittersweet taste. This represents LIFE and the sugarcoating is added with the hope that life together for the newlyweds will be more sweet than bitter.
ITALIAN WEDDINGS Five almonds have a significant meaning. They can be put at place settings for decoration, wrapped in tulle or put in a box or other type of container. The five wishes for the Bride and Groom are health, wealth, happiness, fertility, and longevity.
GREEK WEDDINGS In traditional Greek weddings, the Jordan almonds are called *koufetta*. They are placed in little bags in odd numbers and are served on a silver tray. Odd numbers are indivisible, symbolizing how the newlyweds will share everything and remain undivided.
MIDDLE EASTERN WEDDINGS The candy-covered almonds are considered aphrodisiacs and are always on hand. (Beware, guests may start leaving the reception earlier than expected.)
A SWEET IDEA Jordan Almonds make great wedding favors. Wrap a cluster in tulle tied with ribbon, pack a few in boxes (made of sugar, straw, paper, metal, or plastic), stuff some in decorative bags, or pour a handful into champagne glasses or glass bowls. Attach a little card with a note explaining the almonds' meaning - Health, Wealth, Happiness, Children and a Long Life!