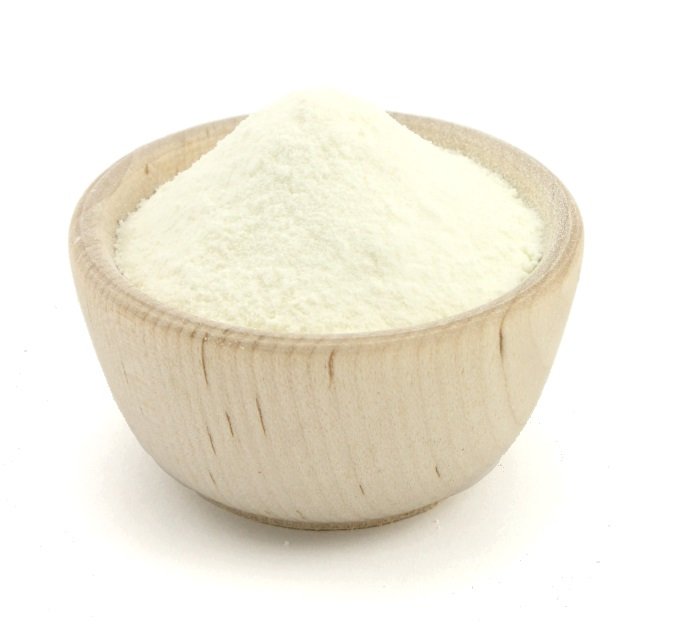 Goat milk powder makes a sweet, creamy and nutritious beverage. Our 100% full cream goat milk powder from the Netherlands is a natural alternative to those sensitive to cow's milk. It's easier to digest than cow's milk and contains no antibiotics, preservatives, or growth hormones. High in protein, calcium and minerals, goat milk is a healthy drink that's sweet and creamy. Try our goat milk powder sprinkled over cereal or oatmeal, in baked goods, or right out of the glass!
How to Make Goat Milk from Powder
To make one cup of goat milk, mix four tablespoons of goat milk powder with 8 ounces of warm water. Refrigerate and serve chilled. The goat milk will keep in the fridge for up to 5 days.
Customer Reviews
Love is goat milk powder I drink it first thing in the morning give me energy and also I don't need as much caffeine this goat milk powder taste really fresh and doesn't taste like some kind of strange animal like I thought I wouldn't like goat products because of that but it didn't taste like something creamy like milk with sweet Just a Touch sweet with no sugar added but it really gives you a lot of energy because they have potassium and lots of minerals it is a powder so you can mix it up and coffee just a little bit or a glass or in a bowl with a cereal or put it into baked goods or even made a salad dressing out of it with some tomato sauce with mayonnaise and the goat milk powder made it creamy and spices and herbs onion powder the girls and everything you can cook with it probably I haven't tried that yet probably go good in cream soups cuz it would add a burst of nutrition do everything with a good flavor nuts.com is a very nice company friendly and helpful thanks I love you guys
Suzzane
, Coos Bay, OR
I have purchased this product regularly for several years, and as a rule I LOVE IT. This particular batch is a bit stale and flavorless - no idea what accounts for that. I'll buy it again in hopes it gets back to being great.
Uriel
, Ithaca, NY
I never drank goat's milk before , but I HATED THIS! It reminded me of a " wild Taste" like you find in wild animal meats like Deer, Bear, Rabbit. It has a very strong taste and I could not even swallow it . I had to spit it out. I made the one quart according to directions and after trying it , I flushed it down the toilet and I threw the whole 1 pound bag in the garbage! Seriously, this reaks!
Elaine
, Hunlock Creek, PA
This is really good goat milk as far as I know since I've never had any but this one but I just started try and goat cheese and then this milk is really good flavor I didn't think I'd like it because my taste buds are very picky and it sounded gross when I thought about drinking milk from a goat but this is so good I can't get enough of it I drink it every morning but in the afternoon it really gives me energy when I'm feeling tired has been drinking fruit juice or eating something sweet this seems to give me more energy and focus I feel like it's helping my brain I can think better after I drink it also I think it helps my muscles feel stronger because I have fibromyalgia anything that helps that is really good it doesn't dissolve is well in cold water but it still does dissolve if you put it in a bottle with a live in Shake It or use hot water is your cousin smoothie makers really good again with mangoes and coconut but I drink it plain most of the time I am planning to try more things with it and my cat likes it she begs for it every day! Also I have lactose intolerance and most dairy products bother me and I have to take Lactaid pills they have enzymes in them and this I don't have to for just save money on Lactaid pills and time it happened to think about it it has a good protein A2 instead of a one which was making my skin itch a little bit I didn't realize it till I went off the other kind of milk but now some of the issues I've had seem to go away so I don't know some doctors recommend using goat milk on your face I haven't tried that yet it tastes too good to think about using for something else!
Suzzane
, Coos Bay, OR
Ingredients
Goat Milk Packaged in the same facility as peanuts, tree nuts, wheat, soy, and milk products.
Nutrition Facts
Serving size 14g (~0.5 oz.)
Amount per serving
Calories
73
Calories from Fat
39
%DV
Total Fat
4g
7%
Saturated Fat
3g
15%
Cholesterol
11mg
4%
Sodium
35mg
1%
Total Carbohydrate
5g
2%
Dietary Fiber
0g
0%
Sugars
5g
Protein
4g
Vitamin A
1%
Vitamin C
1%
Calcium
13%
Iron
0%
More Info
Store in a cool dry place. Refrigeration is not needed.
Country of origin: Netherlands
ID: 1997
Click here to
read
related CA Prop 65 Warning