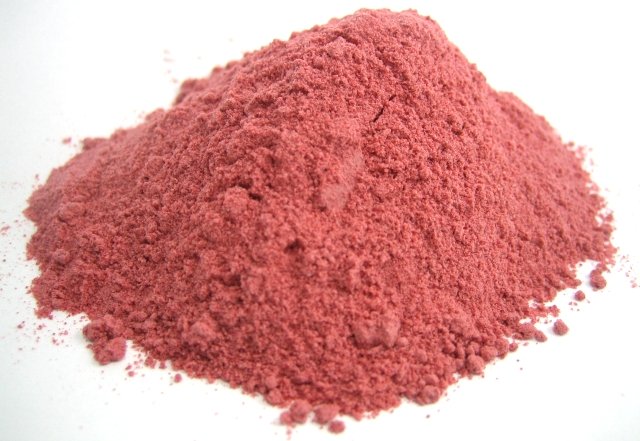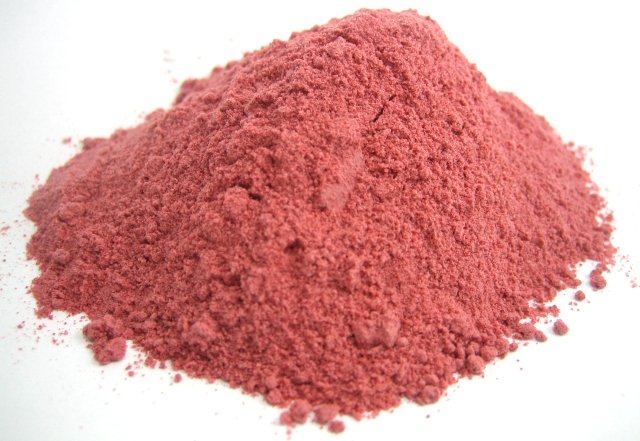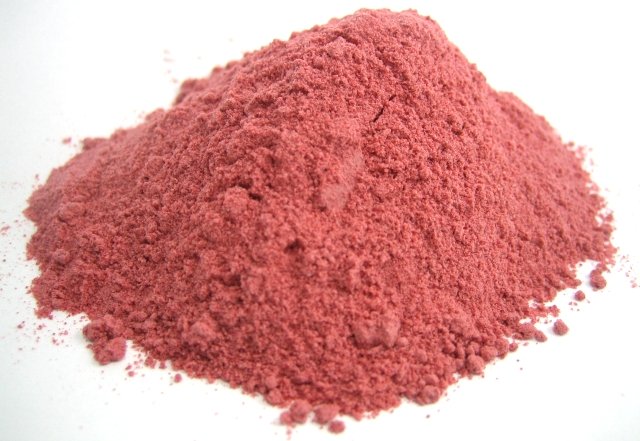 Organic yumberry powder is a powerful superfood with a mouth-watering tangy flavor. Yumberries are the richest known source of oligomeric proanthocyanidins (OPCs), protective antioxidants that support the eyes and heart. Organic yumberry powder blends seamlessly with a variety of drinks and foods to promote good health.
How to Enjoy Yumberry Powder
Organic yumberry powder really is yummy. Like the fruit it is made from, organic yumberry powder has a tart flavor and a pomegranate-like fragrance. Mix 1-2 tablespoons of organic yumberry powder with 8 ounces of water to make yumberry juice, or blend it in juices, smoothies, and yogurt. It can also be sprinkled over cereal or oatmeal, and added to cookies, energy squares, and other treats.
Health Benefits of Yumberry Powder
Like many other berries, yumberries are full of nutrients. They contain strong antioxidants and numerous vitamins and minerals, including high quantities of vitamin-C, thiamine, riboflavin, and beta-carotene. Most notably, yumberries contain the highest known concentration of a powerful class of antioxidants called oligomeric proanthocyanidins (OPCs). The name may be long and hard to pronounce but OPCs can benefit your health in incredible ways.
Improves Heart Health: The OPCs in yumberries fight free radicals to prevent the oxidation of LDL "bad" cholesterol. This reduces inflammation in the arteries, lowers the risk of developing atherosclerosis, and supports overall cardiovascular health.
Lowers Blood Pressure: A 2013 study published in Drug Research examined the effects of yumberry (Myrica rubra) on the cardiovascular system of rats. The rats treated with yumberry experienced a decrease in arterial blood pressure and other cardiovascular markers. The results of the study classify yumberry as a functional food.
Protects The Eyes: Yumberries can help protect your eyes against damage caused by prolonged exposure to the sun's harmful ultraviolet rays. High intensity UV rays can harm the retina and increase the risk for developing cataracts but the powerful antioxidants in yumberries help combat this oxidative damage caused by the sun.
Reduces Inflammation: Inflammation is the body's natural immune response to injury but excess inflammation can lead to chronic conditions like autoimmune diseases and arthritis. The OPCs in yumberries can help relieve unnecessary inflammation and the pain associated with it.
Anti-Aging Effects: Organic yumberry powder can help your skin maintain a youthful glow. The OPCs in yumberries help protect and strengthen skin cell membranes to keep skin firm. Antioxidants are one of the skin's best defenses against premature aging.
Origin of The Yumberry
Yumberry is probably one of the more unusual fruit names you've encountered (we promise we didn't make it up!). In fact, the yumberry is the fruit of the Myrica rubra tree, known in Chinese as the Yangmei. The story goes that the first American supplier of the fruit noticed that the Chinese "Yangmei" sounded a lot like the word "yummy," and he instantly had a catchy and very accurate brand name.
The Myrica rubra, also known as the Chinese bayberry, the red bayberry, the yamamomo, the yangmei, and, of course, the yumberry tree, is native to the Far East and has been grown in China for over 2,000 years. It produces a ruby-colored, tangy fruit. The fruit is only harvested for three weeks a year and has a very short shelf life. Nevertheless, according to the New York Times, there are twice as many acres of yumberry trees in China as there are apple orchards in the United States, making it a very popular fruit on the other side of the world.
Ratings & Reviews
I loved it. It was a perfect blend to my smoothie
Ann
, Bronx, NY
Not what I was thinking.
JASON
, Santa Rosa, CA
mixed it into fresh lemonade and WOW
Shaunta
, Houston, TX
Looking forward to using it in my smoothies
FRANCES
, KINGFIELD, ME
Ingredients
Organic Yum Berry Juice, Silicon Dioxide Packaged in the same facility as peanuts, tree nuts, soy, and milk products.
Nutrition Facts
Serving size 14g (~0.5 oz.)
Amount per serving
Calories
51
Calories from Fat
%DV
Total Fat
0g
0%
Saturated Fat
0g
0%
Cholesterol
0mg
0%
Sodium
4mg
0%
Total Carbohydrate
13g
4%
Dietary Fiber
0g
0%
Sugars
9g
Protein
0g
Vitamin A
0%
Vitamin C
4%
Calcium
2%
Iron
5%
Click here to
read
related CA Prop 65 Warning