Chag Sameach (Happy Holidays) from Nuts.com!
We deliver a huge selection of deliciously fresh, kosher products on time! 100% Satisfaction Guaranteed.
(Read our
hundreds of testimonials
.)
We know sweet, kosher goodies! Here are four great ways to snack on Shabbat, the holidays, or just a special afternoon with family and community.
1. For a classic and delicious treat: Our Apples and Honey Gift Basket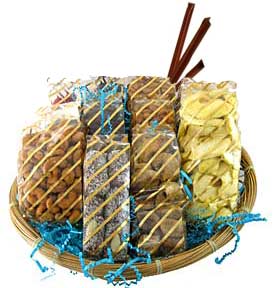 Apples and honey are the classic way to celebrate a sweet new year, but we love all year round! Sample every single apple and honey product we stock...from deliciously dried apples to honey sticks to honey roasted cashews.
Featuring Dried Apples, Cinnamon Apple Wedges, Infused Dried Apple Wedges, Honey Roasted Peanuts, Sugar Toasted Peanuts, Honey Roasted Cashews, Honey Nut Sesame Crunch, Dried Turkish Figs, Holiday (Coconut Rolled) Dates, Medjool Dates, and Honey Sticks.
Over 5.5 pounds!
2. For the discriminating palate: Our Fig and Date Extravaganza!
If you love the flavors of the Mediterranean, this is the tray for you! It makes an extra special gift for a loved one, or the perfect thing to put out at your home. Just like something you'd bring home from the market in Tel Aviv or Tuscany.
Featuring our outrageously sweet, soft Jumbo Apricots, our delectable Turkish Figs, Extra Large Medjool Dates, Roasted and Salted Cashews, and Roasted and Salted Almonds.
Over 6.5 pounds!
3. For a happy crowd of snackers: Our Fruit and Nut Delight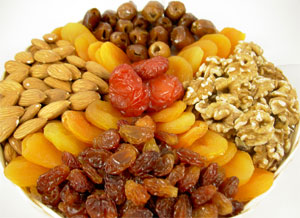 This tray is welcome addition to any family celebration...and a great contribution to a community event! This parve tray contains our eye-catching Crimson Raisins, Apricots, Pitted Dates, Natural Amonds, Natural Walnuts, and Angelino Plums.
4. For choosy gift-givers and hosts: Our Custom Trays and Custom Mixes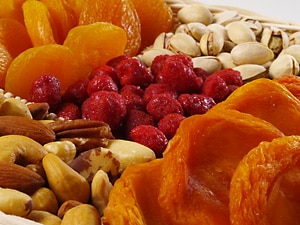 Can't decide on one of these baskets? Design your own incredible custom tray. Fill it with the flavors of the season, and add in your all-year favorites!
Design a large or medium custom tray.
We'll wrap it beautifully and deliver it on time to you or a friend! Or create your own
custom mix
- a blend of those ingredients you love best in a 5 pound bag, with your own custom label. It's as fun to design as it is to eat!