Best Seller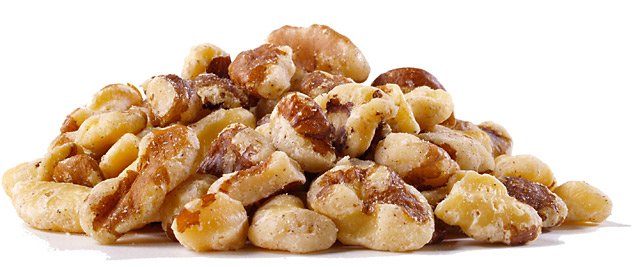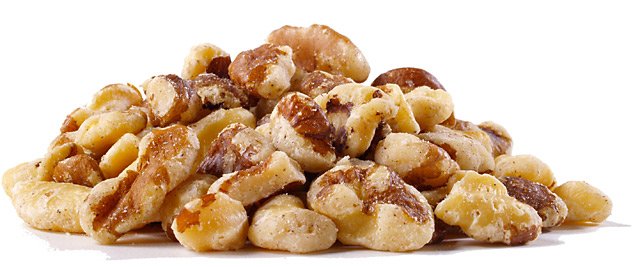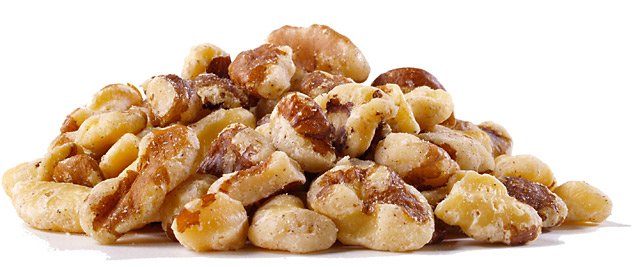 Black walnut pieces have a bolder, more intense nutty flavor than traditional English walnuts. They also contain more protein per ounce than any other tree nut. Native to the U.S., these unique black walnuts arrive shelled and in chunky pieces so they're ready for baking. Rich in flavor and nutrition, black walnuts are also an ideal snack.
Black Walnuts vs. English Walnuts
Most notably, black walnuts are recognized for having a bolder, earthier flavor than standard English walnuts. Cultivated only in the U.S. and grown in the wild, black walnuts are also very rare and harder to find than their English counterpart. They have thicker shells that are more tough to crack and can stain hands (these black walnuts already have the shells removed). Black walnuts contain more protein per ounce than any other tree nut, making them a more nutritionally dense snack option.
Black Walnut Recipe Ideas
Black walnuts are popular in baked goods, thanks to the rich nutty flavor they impart to recipes. Try them in these oatmeal cookies or add them to sweet confections such as fudge. Black walnuts also make a nice crunchy addition to savory dishes such as quiche, poultry, fish, and more. They can be enjoyed as a crunchy topping for salads or yogurt to boot!
Black Walnut Nutrition
A one-ounce serving (about 1/4 cup) of black walnuts provides:
7 grams of protein (more per ounce than any other tree nut)
2 grams of fiber
4 grams of heart-healthy monounsaturated fat
562 milligrams of omega-3 fatty acids
148 milligrams of potassium
145 milligrams of phosphorus
More Vitamin B5 and B6 than other common tree nuts
Additionally, black walnuts are very low in saturated fat, yet very high in polyunsaturated and monounsaturated fats, which are the good fats that can lower bad cholesterol while maintaining good cholesterol.
Black Walnut Benefits
1) Lower Cholesterol Levels: Walnuts are one of the richest food sources of alpha-linolenic acid (ALA), an essential omega-3 fatty acid, which may help lower cholesterol levels. Researchers have compared the effects of walnut and fatty fish consumption on the risk of developing coronary heart disease. They found that although both food sources are rich in Omega-3 fatty acids, walnut consumption was more effective at lowering LDL "bad" cholesterol in healthy patients than fatty fish consumption. These findings were published in a 2009 study in the American Journal of Clinical Nutrition.
2) Powerful Antioxidants: Walnuts are loaded with protective polyphenols! Compared to nine different types of raw and roasted nuts, walnuts contained the highest total polyphenol content, as demonstrated in a 2012 study published in the journal Food & Function. Polyphenols have antioxidant properties that have been associated with the prevention of degenerative diseases, particularly cardiovascular diseases and cancers.
3) Stress Relief: Eating a handful of black walnuts may help ease your mind. A 2010 study published in the Journal of the American College of Nutrition examined the effect of walnut and walnut oil consumption on adults with elevated LDL cholesterol levels. They found that eating walnuts helped the adults reduce their blood pressure both at rest and during times of stress.
Hand-Harvested, Shelled Black Walnuts
Getting these nuts to customers is truly a labor of love, as nearly every step in the cultivation, harvesting, hulling and final preparation of shelled black walnuts is still done by hand. The nuts fall naturally from the black walnut trees in late autumn, where they must be harvested directly from the forest floor. The green, messy hulls are then removed, the nuts are dried, the extra-tough nut shells are cracked and, finally, these delicacies can be plucked out.
When we buy black walnuts, we love to think about all the hands-on effort that it took to bring them to us. We hope you do, too!
We also carry in-shell black walnuts.
Read More
Ratings & Reviews
For holidays I like to make Divinity candy using my Aunt's 100-year old recipe. But her original recipe called for black walnuts, and they are really hard to find. I should have given Nuts.com a try sooner – of course they have black walnuts at a reasonable price, with incredibly fast shipping. I can't wait to bring back that vintage taste.
Kim
, Wittenberg, WI
More! I need MORE!!!
Everett
, Little Rock, AR
My husband has these on his cereal, and I love using them in baking too.
Eletha
, Eutawville, SC
I received right before Christmas and dove in. Just like eating Lays potatoe chips-bet you can not eat just one.
Karen
, Toccoa, GA
Ingredients
Black Walnuts. **May contain occasional shell fragment.** Packaged in the same facility as peanuts, tree nuts, soy, and milk products.
Nutrition Facts
Amount per serving
Calories
% Daily Value
The % Daily Value (DV) tells you how much a nutrient in a serving of food contributes to a daily diet. 2,000 calories a day is used for general nutrition advice
More Info
Store open or closed under refrigeration for up to 6 months. This item can be frozen.
Country of origin: United States
ID: 3006