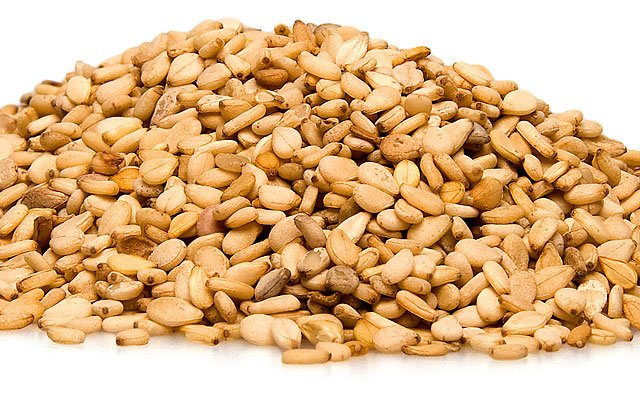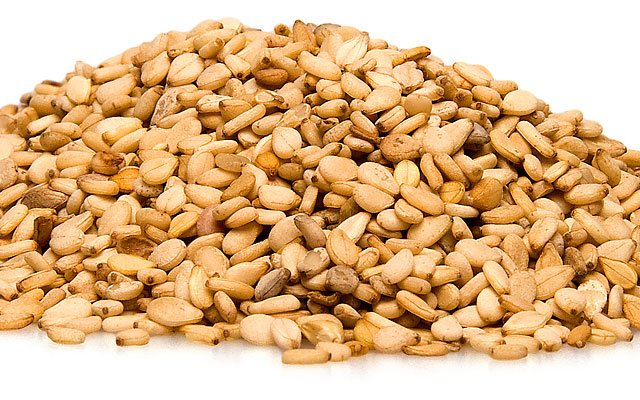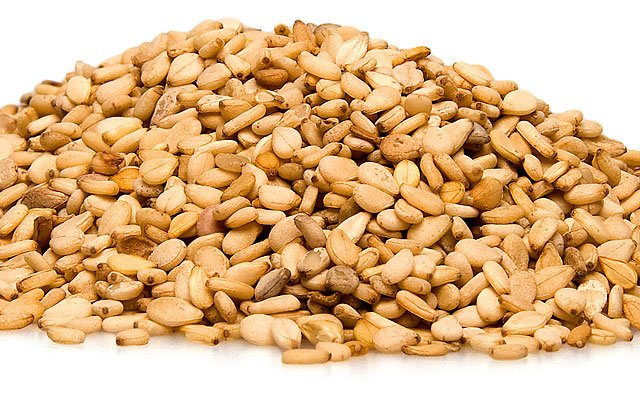 Unhulled sesame seeds like these are unique because they retain their outer shell. Also known as whole sesame seeds, they can be hard to find but we tracked them down! These natural imported unhulled sesame seeds can be used in many meals and candies. They're also great for making your own sesame butter at home. With the hulls still intact, these sesame seeds are less prone to rancidity.
Health Benefits of Unhulled Sesame Seeds
Packed with fiber, healthy fats, calcium and iron, just a few spoonfuls of these whole sesame seeds will give your body a major health boost. They tend to have a higher mineral content than their hulled counterpart. The hulls are also a good source of insoluble fiber, to provide digestive health benefits in every serving. Unhulled sesame seeds are also a great source of antioxidants, the protective compounds that fight free radical damage associated with premature aging and diseases.
About Sesame Seeds
Native to Indonesia and tropical Africa, the erect annual herb has been cultivated since earliest times in many hot countries of the Old World for its small seeds, which contain a superior vegetable oil used in cooking. The seeds and leaves have been eaten traditionally as a food in Africa and India, while in most other countries has been and still is grown for its oil. The versatile seed is also known as a spice. It is one of the oldest condiments known to man. Records of its production in the Tigris and Euphrates valleys date back to 1600 B.C. The Egyptian name for sesame, sesemt, is found in the list of medicinal drugs recorded in the Ebers Papyrus, dated about 1550 B.C.
In The Thousand and One Nights, the story of Ali Baba and the forty thieves, a password was needed to open the door of the robbers' den. The magical command "Open Sesame" may have been chosen because the ripe sesame seeds burst from their pods suddenly with a sharp pop, like the springing open of a lock.
An herbaceous annual, sesame is grown only from the seed. It thrives best in sandy, well drained soils in a warm climate with moderate rainfall. The plants, which grow to a height of two to five feet, need a fairly long growing season of about four months to mature their seed. The seeds are small, glossy, flattish, and oval-shaped, about one-eight of an inch in length, one-twentieth inch thick, and are available hulled or unhulled. The hull seed is pearl white in color. The unhulled seed varies in color from white to black though, depending on the cultivar, some are red or brown. The seeds are highly nutritious, containing up to sixty percent oil and twenty five percent protein. When roasted, they have a tasty, nutty flavor reminiscent of the almond.
India and China are the world's largest producers of sesame seeds. Most of all the sesame seeds that are harvested are converted into sesame oil. Other important producing countries include Ethiopia, Nicaragua, the Sudan, Mexico, Guatemala, and the United States. The crop is grown extensively in this country in Texas, California, Louisiana, and Arizona.
Sesame seeds are consumed in a variety of ways throughout many countries. They may be eaten dry, added to soups, used as garnish on savory dishes, and used in many candies and cakes.
Ratings & Reviews
Very fresh. Great flavor
Mary
, Norfolk, VA
For my son. He eats lots of the sesame seeds from you.
Ann
, Seattle, WA
I use these in my seed crackers and like that they still have the hulls. Makes them extra yummy.
Gail
, Belleview, FL
they are Bitter, not edible
marilyn
, Carmel, CA
Ingredients
Sesame Seeds Packaged in the same facility as peanuts, tree nuts, wheat, soy, and milk products.
Nutrition Facts
Serving size 9g (~0.3 oz.)
Amount per serving
Calories
52
Calories from Fat
38
%DV
Total Fat
4.47g
6.87%
Saturated Fat
1g
5%
Cholesterol
0mg
0%
Sodium
1mg
0%
Total Carbohydrate
2.11g
0.7%
Dietary Fiber
1.1g
4.4%
Sugars
0.03g
Protein
1.6g
Vitamin A
0.02%
Vitamin C
0%
Calcium
8.8%
Iron
7.27%
More Info
Store in a cool dry place for up to 6 months. It is ok to refrigerate.
Country of origin: India
ID: 7009