Our Best Deals

Of the Year


Enjoy epic savings for a limited time only.
Popular Searches
Favorite Flavors
Popular Searches
Favorite Flavors
People are nuts about us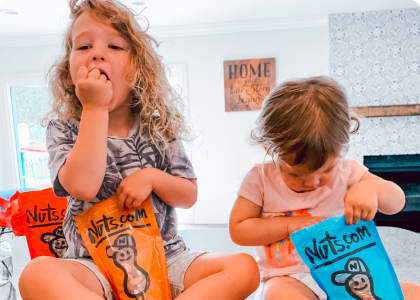 Sweet and nutty! I wasn't sure what a "bourbon" pecan would taste like, but they are delicious. Found myself craving their sweet goodness. The right amount of sweet and flavorful, big pecans! Try them!
Michelle, New Egypt, NJ
Bourbon Pecans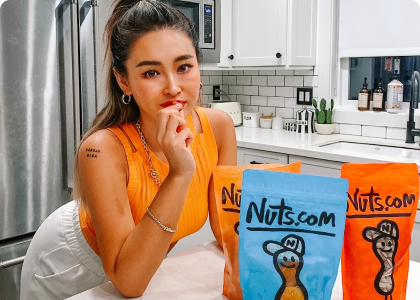 I gave a bag to my daughter. With a warning: they are like potato chips - you can't eat just one! These are the best dried mangos ever!!!
Susan, Vancouver, WA
Organic Dried Mango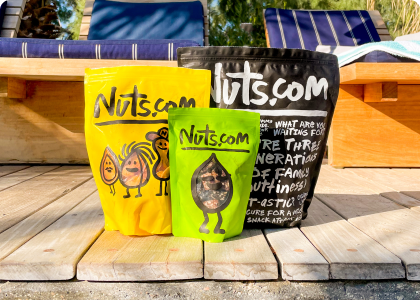 I never buy those sad, crappy little trail mix things from the local grocer. No comparison to this! Fresh, nutritious, and so tasty.
Kathleen, Mars Hill, NC
Harvest Trail Mix
Why People are Nuts About Us

BOURBON PECANS
"One of our favorites. Keep coming back for more!"

TRAIL MIX BITTY BARS
Bonnie, Virginia Beach, VA
JUMBO RAW PEANUTS (IN SHELL)
"Biggest, best peanuts ever- we all love them!"
Search Your Favorite Snacks
Popular Searches
Favorite Flavors
Get Free Shipping when you spend $29+
Sign up and get free shipping when you spend $29 or more.
New customers only.

Oh, Nuts!
Thanks for resubscribing. This promotion is only valid for first-time subscribers. But check your inbox weekly for other great promotions.
Offer applied!
Congrats, you're getting free shipping with your next purchase when you spend $29 or more.
Your offer will apply in checkout.
Next steps
1
We've applied a coupon to your cart. Yay!
2
All of your goodies will ship for free when you spend $29 or more. Most will arrive within 2 days or faster.
3
Your offer will be applied in checkout. Happy shopping!
Start Shopping
A wee-bit of fine print:
Offer valid for new subscribers shipping to destinations within the contiguous USA. Free shipping applies to standard, 'ground' shipping methods. Existing email subscriber? Check your email inbox weekly for other great offers.
Popular Searches
Favorite Flavors