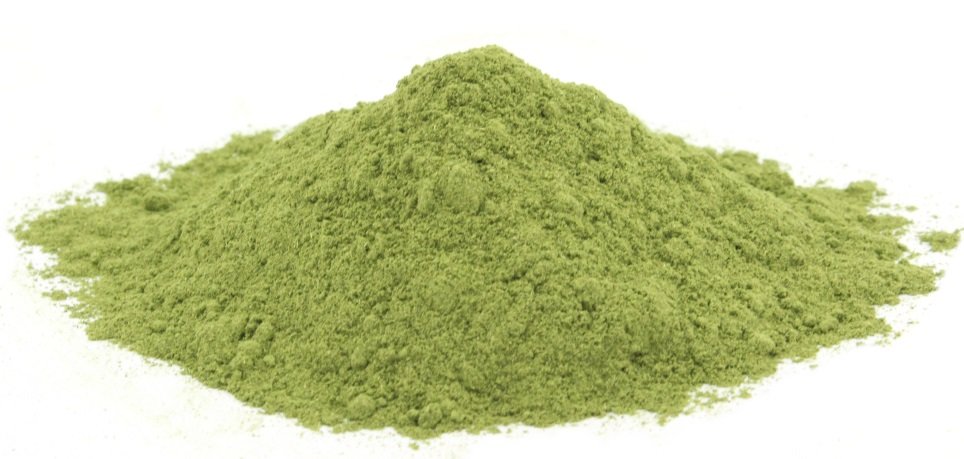 Moringa powder is recognized as one of nature's most nutritious superfoods. Freshly ground from dried moringa oleifera leaves, it is rich in vitamins, minerals and essential amino acids. Moringa powder is even considered a complete protein because it contains all nine essential amino acids. Get a major health boost by adding one teaspoon of moringa powder to smoothies, juices, salad dressings, and more!
Moringa Powder Dosage
Start by taking one teaspoon of moringa powder daily. Gradually increase your daily dosage to one tablespoon.
What Does Moringa Powder Taste Like?
Moringa powder has a nutty, leaf-like taste that is neutral enough to blend in with beverages and foods.
How to Take Moringa Powder
Enjoy one teaspoon of moringa powder mixed into juices, smoothies, or other beverages. We also like to stir it into yogurt and oatmeal for a nutritional boost in the morning, although it is also wonderful in salad dressings or guacamole. We advise against cooking moringa because heat will significantly reduce the potency of the vitamins. However, it can be added to soups, hot foods, and other recipes once they have finished cooking.
How to Make Moringa Tea: For a healthy tea that you can enjoy any time of day, mix one teaspoon of moringa powder into a cup of hot water.
6 Benefits of Moringa
1) Nutrient Powerhouse: Plentiful in vitamins, minerals and amino acids, moringa powder can be a nutritious addition to many diets. It contains all nine essential amino acids, for a complete protein source. Additionally, moringa powder contains beta-carotene, vitamin C, B-complex vitamins, and potassium!
2) Antioxidant Protection: Moringa leaves have powerful antioxidants that protect against the damaging effects of free radicals. A 2009 study published in Plant Foods for Human Nutrition found that the extracts of both mature and tender Moringa oleifera leaves have potent antioxidant activity against free radicals.
3) Weight Loss Support: The fiber and antioxidants found in moringa leaf powder may promote weight loss. Fiber can help suppress appetite and control blood sugar spikes, making moringa powder an ideal supplement for those trying to lose a few extra pounds. Additionally, moringa leaves contain an antioxidant called chlorogenic acid, which is the same compound found in green coffee bean extract that is believed to help balance blood sugar and burn fat.
4) Blood Sugar Control: Preliminary research suggests that moringa leaves may help lower blood sugar levels. One study published in the International Journal of Food Sciences and Nutrition found that adding moringa leaf extract to a meal significantly reduced the blood glucose response of the people who consumed it.
5) Anti-Inflammatory: Moringa powder may help reduce excessive inflammation in the body. A 2008 study published in Pharmaceutical Biology found that moringa leaves have anti-inflammatory properties which may be used in the treatment of conditions associated with pain and inflammation.
6) Natural Energy Booster: Rich in a wide range of B-complex vitamins, moringa powder promotes relief from anxiety and headaches, while naturally providing increased energy without the jittery side effects of caffeine. Moringa also helps relax the mind so that it can focus and concentrate better.
How to Store Moringa Powder
Moringa powder may be stored in a cool, dry place for up to one year. It may also be refrigerated to preserve freshness.
What is Moringa?
Moringa oleifera (also known as miracle tree or drumstick tree) is a small tree native to the sub-Himalayan areas of India and has been used for generations to treat various ailments.
How Is Moringa Powder Made?
Moringa powder is made from dried moringa oleifera leaves. To protect their naturally-occurring nutrients, the moringa leaves are dried in an area hidden from the presence of direct sunlight. The delicate, dried leaves are then crushed to create the soft and fluffy moringa powder. About seven pounds of freshly harvested moringa leaves produces one pound of moringa leaf powder. Our customers love to buy moringa powder from us because it's 100% all-natural moringa with no additives. Due to seasonality, the color of the Moringa Powder may vary.
Customer Reviews
I made capsules with the Moringa powder. wow it is great
Patricia
, Glendale, AZ
The color is dark brown rather than green, which I do not understand. I wonder if it has gone bad or totally oxidized, or some other problem
Jan
, East Norriton, PA
It did not taste fresh, even after it was replaced.
Seth
, Conway, AR
Just starting on Moringa and so far I pleased with it.
Victoria
, Omaha, NE
Ingredients
Moringa Leaf Powder. Packaged in the same facility as peanuts, tree nuts, soy, and milk products.
Nutrition Facts
Serving size 4g (~0.1 oz.)
Amount per serving
Calories
1
Calories from Fat
%DV
Total Fat
0g
0%
Saturated Fat
0g
0%
Cholesterol
0mg
0%
Sodium
0mg
0%
Total Carbohydrate
0g
0%
Dietary Fiber
0g
0%
Sugars
0g
Protein
0g
Vitamin A
0%
Vitamin C
0%
Calcium
1%
Iron
1%
More Info
Store in a cool dry place for up to 1 year. It is ok to refrigerate.
Country of origin: India
ID: 9759
Click here to
read
related CA Prop 65 Warning