Chia Seeds
Chia Seeds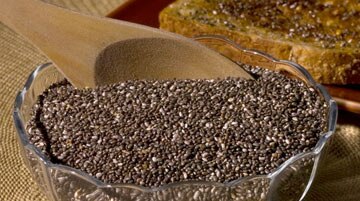 Order now, we'll ship
Today!
Scroll down this page to discover...
7 Good Reasons To Start Eating Chia Seeds

Help weight loss. Chia seeds are popular for weight loss. They reduce food cravings by preventing some of the food that you eat from getting absorbed into your system. This blockage of calorie absorption makes them a great diet helper.
Feel fuller faster: They can also help your diet by making you feel full. This is because they absorb 10 times their weight in water, forming a bulky gel.
Hydration for athletes: They are also great for athletes because the "chia gel" can hydrate the body.
Reduce your blood pressure: There's evidence to suggest they can reduce blood pressure.
Omega-3: They are the richest plant source of Omega-3 (the vital fats that protect against inflammation—such as arthritis—and heart disease). In fact, they contain more Omega-3 than salmon!
Benefits for diabetes: Because chia seeds slow down how fast our bodies convert carbohydrates into simple sugars, studies indicate they can control blood sugar. This leads scientists to believe chia seeds may have great benefits for diabetics.
They are easier to digest than flax seeds, and don't need to be ground up.
Why You Should Get Your Chia Seeds From Us

Price: Our prices are much lower than some other suppliers. That's because we're one of America's biggest suppliers of chia seeds. Also, we deal directly with the farmers, so there's no "middleman".
They are great quality. If you don't believe us, buy some of our chia seeds and some from elsewhere, and do yourself a blindfolded test—like the Pepsi Challenge but with more Omega-3.
Our customers love them. See their almost deliriously happy comments below.
No added weirdness: Our chia seeds were "raised well"; they are raw, non-GMO, non-irradiated, and produced without pesticides. Yippee!

We guarantee to be in stock and will ship out the same business day.
What the Experts Say About Chia Seeds

Dr. Oz from the Oprah show says,"They just may be one of the healthiest things around."

Nutrition expert Dr. Weil said, "A healthful and interesting addition to my diet. My prediction? You will begin to see chia being added to more and more commercial products, such as prepared baby foods, nutrition bars, and baked goods."
How to Eat Chia Seeds (Including Recipes)

Chia seeds make an incredibly healthy—and often unnoticeable—addition to many foods.
Here are some great ways to enjoy chia seeds:
They can be eaten raw. (They have a nice "nutty" flavor.)

They can be soaked in fruit juice (in Mexico, they call this "chia fresca").

They're perfect in porridges and puddings.

They make an ideal addition to baked goods including breads, cakes and biscuits.
How Many Chia Seeds Should You Eat? We recommend two daily doses of about 20 g each (1.5 ounces total).
Delicious chia recipes:
Got a recipe you think we'd like? Submit it here!
Nutrition Facts
Serving Size 28g (~1 oz.)

(Approx. 16.2 Servings/Pound)

Calories 137
Fat Cal. 72


Amount/serving
%DV*
Amount/serving
%DV*
Total Fat 9g
13%
Total Carb. 12g
4%
Saturated Fat 1g
4%
Dietary Fiber 11g
42%
Cholesterol 0mg
0%
Sugars 0g
Sodium 5mg
0%
Protein 4g
Vitamin A 0% • Vitamin C 0% • Calcium 18% • Iron 14%
* Percent Daily Values (DV) are based on a 2,000 calorie diet.
Customer Testimonials
Your chia seeds are the best I have eaten! I am ordering more! Thank you!
Let me tell EVERYONE this company and my chia Seeds are the BEST EVER!!!!!! I do NOT write reviews... but i need to do it The product is THE BEST II TRIED ((i have tried with 3 until now). The service is excellent.. the shipping fast. One WORD: AWESOME!
My ordered arrived on time and in great shape. Thanks loads. Now we will enjoy the Chia and Goji berry snacks.
I am loving my chia seeds (thanks to Dr.Oz). I will definitely order more on my journey to a healthier me. Down 33Lbs since the start of the year! Thanks guys
The first time I ordered from you it was delivered in 19 hours. This order took 27 hours. You are slowing down. Seriously, I am glad I found you. A good quality source for nuts and chia seeds at a reasonable price and fast delivery. Thanks.
I have been very happy with every order I have placed with nuts.com. I just ordered the whole wheat fig bars for the first time and I was very surprised how awesome they tasted. Way better than anything at the grocery store! I also buy my cacao nibs and chia seeds here. Oh, don't forget the dried strawberries! Tastes like candy!!!!
Thank you for my chia seeds I love them and also for the cacao nibs sample :) I will be a returning customer!
First of all I want to say, what cute packaging?! Right on down to the box it shipped in. I bought the steel cut oats to try and I love them! The chia seeds are excellent as well. I love being able to also try new things by being able to get samples. Also, thanks for the free sample of the cocoa nibs! I will be buying again soon. PS. Super fast shipping, ordered on Friday delivered on Tuesday!
I don't know where you ship from, but I ordered on Monday afternoon, and my daughter received them on Tuesday mid-day (Fairfield CT). Fast. She loved the chia seeds, and the chocolate covered cherries.
Wow!!! That is how I describe the awesomeness of the organic cacao nibs and the chia seeds. I tried some the cacao nibs with my protein drink and in my coffee. I then sampled the chia seeds . . . I felt energized the entire day. Thank you! I plan to order more of those wonderful cacao nibs when the sample runs out. You guys are just great! :)
I am beyond satisfied with my purchase of chia seeds - I got them super fast and I am really happy. I am back on here looking to order more of what you have to offer. Thank you so much I am now a lifetime customer!
Received my order for two pounds of Chia Seeds on Saturday by FedEx. So happy to receive my order before the snowstorm hit. Am looking forward to having my "cereal" that I make with the Chia Seeds. Thanks for the little surprise package too!! Oh, by the way, I usually buy my Chia Seed at Baesler's in Terre Haute, IN which is quite a distance from me. I called them to see if they could mail some to me and they gave me your company's name as a reputable place to order from. In fact, before getting their bulk setup, they ordered Chia seed from you too. The produce manager said they still do some special orders before Christmas. Thanks again!!!!! Kay Nicholas Ste. Marie, IL
Second time to order Chia seeds from Nuts.com. Delivery is lightening fast. Chia seeds are excellent quality. The best part is buying in bulk so that I'm not running to the specialty store every other week! Bonus, the box is fun and our cat loves to play in it!
More Chia Seeds
Top 10 SuperFoods