NUTS for Jericho - A Letter from Jeffrey to Jericho Supporters
A letter from Jeffrey to Jericho Supporters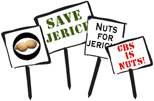 10:10 PM EDT, May 22
Hello Jericho lovers!
From a few orders, to a few more orders, to a few emails, to a lot more emails, we suddenly found ourselves in the middle of a campaign to support a show we had never even watched before. At first I thought you were nuts, but after interacting with a bunch of you I realized how real you were and how I could easily see myself in your place. Maybe I get excited too easily, but I was impressed with your devotion and passion and decided to fully embrace your campaign. As many of you know, we totally scrambled to pull this pooled shipping page off in a matter of hours.
Now we've shipped tons of nuts and are frankly amazed at the outpouring of support. I find myself refreshing the page all the time to see the tally grow and grow and grow....Simply amazing. It's remarkable how such a motley group of people from all over the world can pull together and say "NUTS" to CBS in unison. The Internet is such a beautiful thing.
But let me tell you the most remarkable thing about all of this- the emails I have received from you. I've experienced the whole range of emotions, from laughter to tears. Although this isn't a profitable venture for us now, I do realize the publicity has the potential to do wonders for our business. So, yes, at the end of the day we might come out ahead, but the most rewarding part of all of this is being able to connect with so many nice people. Truly amazing. And for that I am grateful to become a part of the Jericho family and to watch the show online once things settle down.
NUTS!!!
~Jeffrey and the rest of the NutsOnline Family
P.S. The nut campaign will continue. I am hoping that the audience for Jericho truly grows as people like me become intrigued. I wonder if the real trick to getting this back on the air is by watching the episodes online, where CBS can see real, hard data. Ah, just my 2 cents...