Jericho Fan Photos
Welcome to our growing photo collection. These are shots of
Jericho
fans from all over, doing their thing to SAVE JERICHO. Whether you make your own tee shirt or pick up one of ours, write letters to CBS or put a sign in your car, host a Jericho party after work or send a thousand emails to local TV news affiliates, we want you to document it and send the shots to us at
jerichopride@nutsonline.com
. Sarah will post them as soon as possible.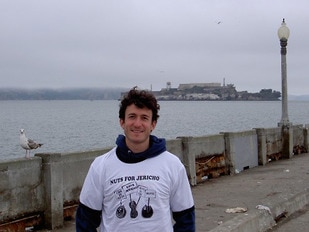 Jeffrey pulls on his best Jericho duds to cheer on swimmers at the Escape from Alcatraz (see it in the background?) triathlon in San Francisco. His friend Matt dedicated his swim to SAVE JERICHO!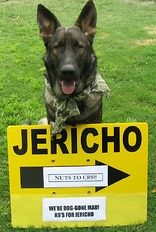 Richo the Spokesdog speaks out
Fans gather at CBS for a peanut delivery! Check out Dylan on the far right!
Lara from Eden Prairie, MN ships to Les Moonves and Nina Tassler at CBS.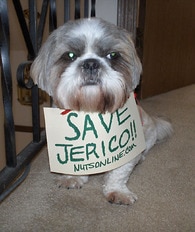 I'm still learning how to spell, but I sure love Jericho! Woof Woof!
That's Jessica the cat on the right...I guess she's a Jericho fan too! Who knew!) :) - Lara, Eden Prairie, MN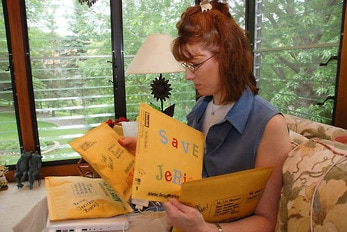 Lara, sending packages to folks like nutty Les Moonves!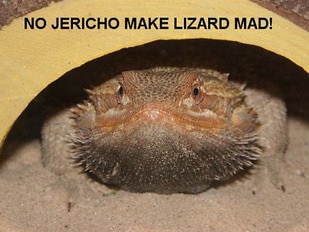 This just in from Scott K!
Jared from Louisiana sent in this shot of the signs in his car! Drive that message home, Jared!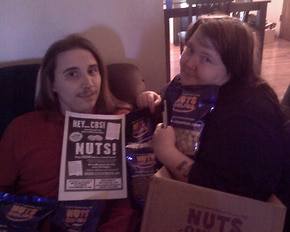 Ryan and Theresa from Savannah, GA are showing some Jericho Love! They say that while they were at it, they "had to find out just how good these products were...and boy did we ever find out. To sum it up in one word WOW!" Thanks guys!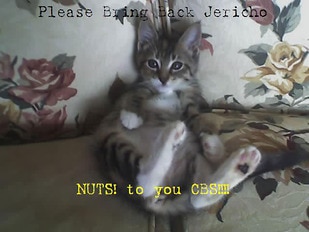 Shelley writes in with a photo of this is Tabith - "a foster kitten of mine showing her displeasure with CBS." Heh. Right on Tabith!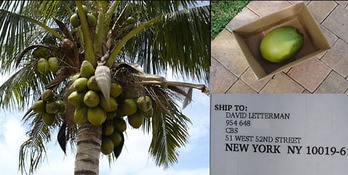 John Hitchcock, Fort Lauderdale, Fl sent in this awesome and creative shot! He says, "although I have sent nuts and donated to Kansas, had to send this to Lettermen. Since I live in Florida its only logical."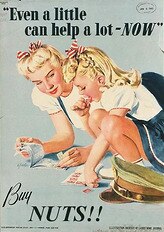 Greg writes in, "Been messing with some old WWII posters and changing them for use today in our campaign..."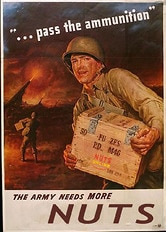 Another classic poster, doctored by Greg!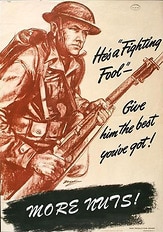 And one last poster from Greg. THANKS for your creative energy, we can't wait to see more of what you're up to.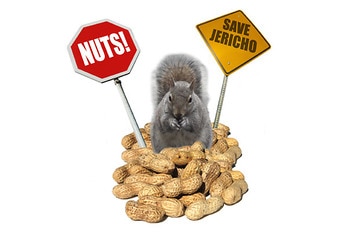 Les Doucet, a Jericho Fan from Halifax, Nova Scotia (Canada) writes in "Greetings from the Great White North. Thanks for all the hard work you guys are doing to save Jericho."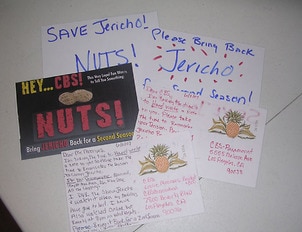 Danica from Gainesville, FL sent in a shot of her hand written postcards she's been sending out. That's really going that important extra mile...THANKS Danica!
This just in from Greg!
Jerimiah sends in this shot - "I thought your first trip thru the Lincoln tunnel was a bit "odd" (check out the sign)"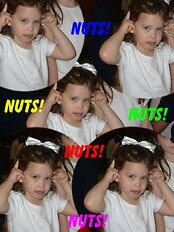 Jennifer sent in this shot and said, "Thank you for keeping the hope alive!" We thank you, too, Jennifer!
This is really incredible. Chris from Thornhill, Ontario (Canada) decided to take the word of Jericho's demise to the streets. This was his message. Read on...
Chris individually bagged a few handfuls of nuts each containing a paper with some info on it. He then headed to downtown Toronto to distribute the nuts.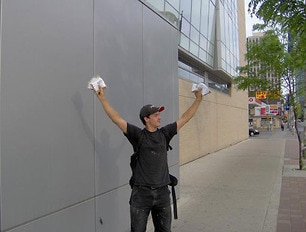 He tried a local radio station first and then started handing them out to people on the streets.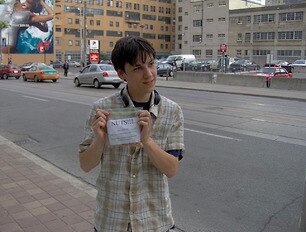 Chris says, "I don't know if I got across to anyone but if at least one person came over to our cause it was worth it. I also had bags of two bite brownies for those allergic to nuts." Chris, you're AMAZING.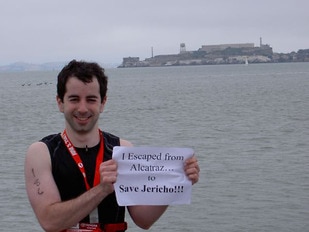 Matt dedicates his grueling "Escape from Alcatraz" triathlon to the SAVE JERICHO effort. GO MATT! You're insane! We love you!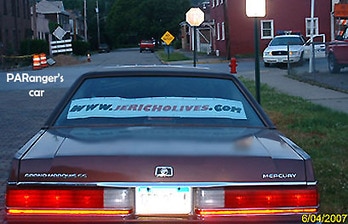 Suz tells us: "I have been parking it at the construction area near my house, right on the corner everyone has to drive past." Awesome use of free advertising space, Suz!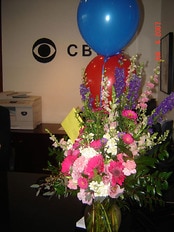 Jesse, of the Flowers 4 Nina Campaign, is the culprit: check out his large bouquet of flowers delivered to Nina Tassler at CBS just this Monday! "It was rough to get the picture...we had to make a deal with the local florist...but it worked out and the picture was great ...that is the receptionists desk from where Nina's Secretary signed for the flowers..." Check out more details at http://www.jesseroland.com/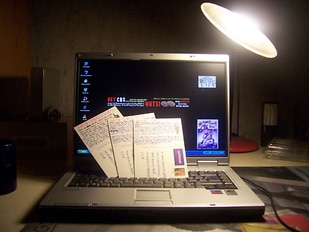 Jana writes in from Floeha, Germany about writing postcards and emails from her "command centre" pictured here, and recruiting new Jericho fans overseas!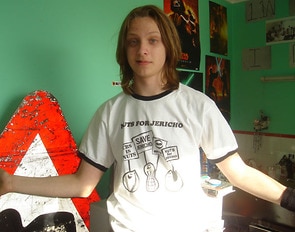 Jim from Coventry in the UK says, "My rather funky NutsOnline.com Jericho tee arrived today, after a long wait for it to be shipped to me in the UK! The pic is of me sporting my new purchase."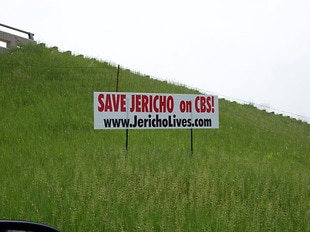 Kelly writes, "I come from a very small town in mid-Michigan and driving to work one day I saw this sign on I-75 about a mile from my house! Needless to say I was awe-struck! I am so proud of the person in my community who put it up!"
"Here's Richo again on his mission to save Jericho..."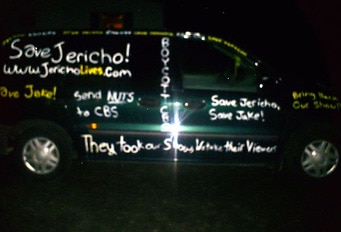 Aimee writes in "The windows on my van are tinted so a sign wouldn't really show through. So I decided there was a better way to advertise our fight with my car!"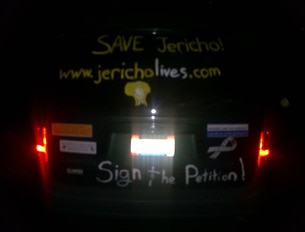 A rear view of Aimee's van....she also says, "Thanks for everything you've done for the show!"
Jenny sends in these "Two Dogs Waiting For CBS to GET A CLUE!"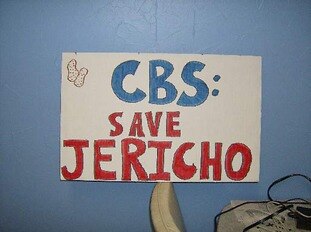 Jennifer, from Washington state, "drew up a post card and sent it to Nina -- nothing spectacular except that it was 14"x22". Hard to ignore!" This is the front...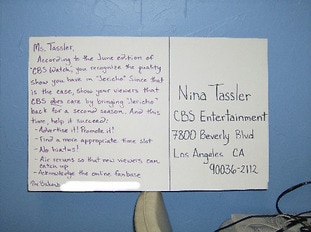 ...and this is the back. GO JENNIFER!!
Quimbie from KC sends this KS/MO Ranger call out to you guys! "THANK YOU...so much for all you did! You meant so much to us and this movement! Lisa and I can't wait to keep working with you. Here little nutty treat for you! This is the Jericho Nut Monster mentioned in the blog Find the Boots!"
Classification: UNCLASSIFIED
Caveats: NONE
A little something I threw together. - CPT Ken "DJ" Dobbe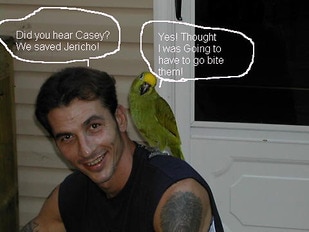 Sami writes in, "This is a picture of Mike (my neighbor) with his parrot Casey.Mike watches Jericho with Casey on his shoulder and both are big fans. :)"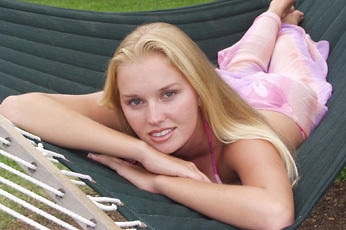 And this is Sami herself! "My friends and I were on my back deck talking about Jericho and how we WON the fight and one friend took this pic.I am all smiles cause we won our fight, for now anyways.Jericho has been reborn..how wonderful is that?"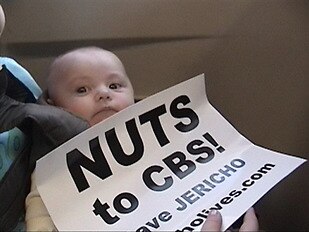 Our new friend Mike writes in, "Baby Hailey on her way to the BIG NUT DROP 5/24/2007. She has a big crush on Jeff! Hailey promptly fell asleep just as Nutty Uncle was backing the van in!"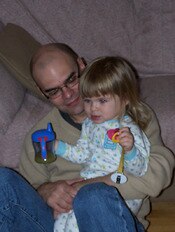 Anthony from Lachute, Quebec (Canada) writes in, "As a Canadian fan of Jericho, you guys were pretty much my only way of directly participating in the campaign. You helped me fight for my convictions, and be part of history in the making...Attached is a glimpse of one of your new faithful clients (actually, two of 'em...)"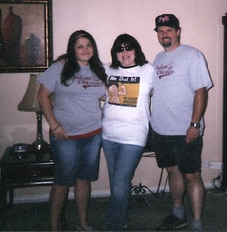 Jennifer writes in with this shot of her, her daughter and husband before a big softball game. "My daughter works for a local radio station that has a softball game each year where their station battles it out with their competitor station. My husband was the umpire and I was just a bystander so I wore my "We Did It" shirt with pride to the stadium."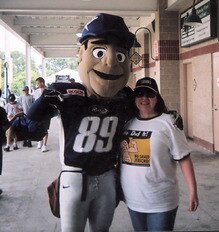 Jennifer says, "me with the shirt and 'Grabowski'. 'Grabowski' is the official mascot for the Chicago Rush arena football team." Thanks Jennifer, and go Rush!
Another one of my Richo pictures...LOL!