6 Chocolate Treats That Are Actually Good for You
Chocoholics, rejoice! Accumulating research evidence shows that eating chocolate may improve cardiovascular health, lower blood pressure, and even reduce insulin resistance (Hooper et al., 2012). However, although cacao itself has been shown to have health benefits, many chocolate treats are loaded with butter, added sugar, and other ingredients that make them less than healthy. Fortunately, we have found a list of chocolate treats that are actually good for you. That means you can enjoy these cocoa-rich, healthy foods without feeling any guilt.
Healthy Chocolate Snacks
Chocolate-Coated Sunflower Seeds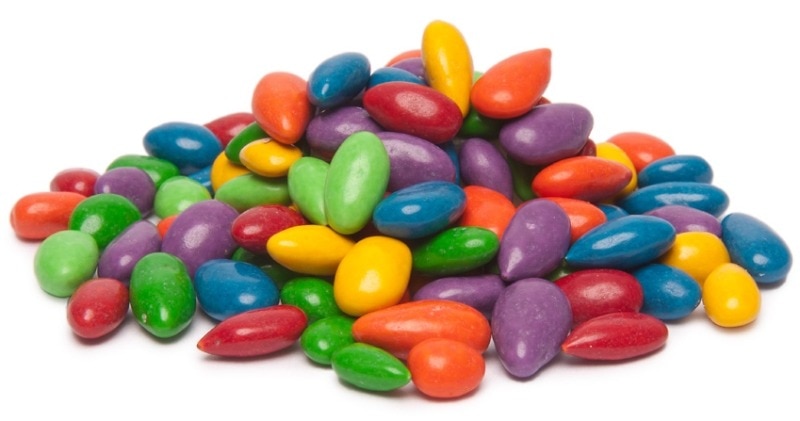 If you've never enjoyed chocolate-covered sunflower seeds, they are a revelation. Coated with a brightly colored candy shell, these seeds look great in a candy dish (although they won't last long). The crunchy sunflower seed interior provides a perfect contrast with the creamy milk chocolate exterior. Plus, the sunflower seeds are an excellent source of vitamin E, which has antioxidant properties that neutralize free radicals in your body (WHFoods, 2014).
Dark Chocolate Covered Almonds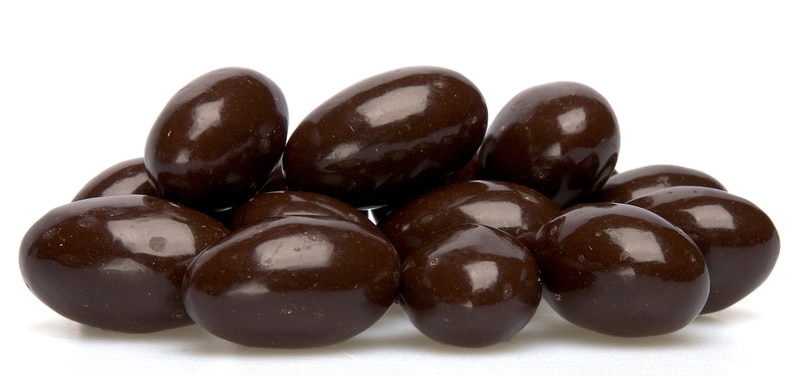 Dark chocolate is teeming with beneficial antioxidants, including the flavonoids called procyanidins, catechins, and epicatechins (Rao, 2011). These flavonoids are able to counteract oxidative damage, which accumulates in cells and is associated with inflammation and disease. In fact, people with high flavonoid levels have been shown to have lower risk of type 2 diabetes, cardiovascular disease, and certain types of cancer (Rao, 2011).
Even more exciting, almonds are a superfood in their own right. Eating a diet rich in almonds also reduces your risk of type 2 diabetes and cardiovascular disease (WHFoods, 2014). Do keep portion sizes in mind when eating dark chocolate covered almonds, as a serving is equivalent to a small handful of these snacks. Overindulging can increase your total caloric intake, as almonds are an energy dense food.
Rich Hot Cocoa
Sure, the cocoa beverages you get from chain coffeeshops are often laden with extra pumps of flavored syrup, mounds of whipped cream, and drizzles of chocolate syrup. But that doesn't mean that hot cocoa has to be unhealthy. Make an antioxidant-rich cacao beverage at home by mixing 1 heaping tablespoon of raw cacao powder into a mug of hot milk (whether dairy or your favorite rice, nut, or soy milk). Add a bit of vanilla extract and agave syrup for sweetness and flavor.
If you're truly craving whipped cream, it is easy to make a healthy vegan whipped cream from raw cashews. Just soak 1 cup of raw cashews in ½ cup of water for three hours. Blend the mixture in a food processor, adding 1 teaspoon of honey or agave syrup for natural sweetness. With a dollop of whipped cream and a sprinkle of cacao powder, your hot cocoa will be a restaurant-quality beverage.
Dark Chocolate Covered Strawberries
Strawberries are a healthy addition to any diet, and covering them with dark chocolate makes them even better. Like all berries, strawberries are rich in vitamins, minerals, and antioxidants. A one cup serving of strawberries contains 149% of your recommended daily vitamin C, 9% of your folate, and 29% of your daily manganese (Self Nutrition Data, 2015). Plus, strawberries are a good source of dietary fiber, which promotes healthy cholesterol and blood sugar levels.
Dark chocolate covered strawberries add an elegant touch to your next date night or dinner party, yet they are dead simple to make. Simply melt some high-quality dark chocolate, dip each strawberry into the chocolate mixture, and place it on a piece of wax paper. For an extra special touch, drizzle the strawberries with melted white chocolate or sprinkle with crushed pistachios.
Healthy Chocolate Chip Cookies
Chocolate chip cookies are a classic treat, but typical recipes are laden with butter and added sugars that make them an unhealthy choice. For a healthier alternative, you may swap a banana for the eggs, add heart-healthy rolled oats, and incorporate soy or almond milk for moisture (Lee, 2013).
Remember that the best chocolate chip cookies make the chocolate the star of the show. Selecting high-quality dark chocolate chips makes a huge difference in the end product. Alternatively, you may roughly chop a high-quality chocolate bar into pieces for a chocolate chunk effect.
Chocolate Covered Espresso Beans
Caffeine lovers will be thrilled to learn that chocolate covered espresso beans are incredibly healthy. The flavenols in espresso beans have strong antioxidant activity, protecting you from oxidative stress and environmental contaminants that cause cellular damage (Truex, n.d.). Plus, caffeine consumption has been linked to lower levels of Alzheimer's and Parkinson's disease (Sagon, 2013). However, it is possible to get too much of a good thing. Limit yourself to a one-ounce serving of chocolate covered espresso beans to avoid the negative effects of caffeine, such as jitteriness, rapid heart rate, and increased blood pressure (Sagon, 2013).
Recipes for Even More Healthy Chocolate Treats
These recipes offer some innovative ways to add that rich chocolate flavor to a wide variety of tasty treats to keep your lust for chocolate in check throughout the day.
6 More Healthy, Chocolatey Snacks
For an added bonus, enjoy these six additional selections of wholesome, chocolate snacks. For more on cacao and cocoa, check out our articles on the differences between cacao and cocoa and 5 ways to use cacao powder.